Tracks
01 Intro
02 Nummern
03 Computerwelt
04 Metropolis
05 The Model
06 Radioactivity
07 Computerliebe
08 Autobahn
09 Pocket Calculator
Personnel
Ralf Hütter
Florian Schneider
Wolfgang Flür
Karl Bartos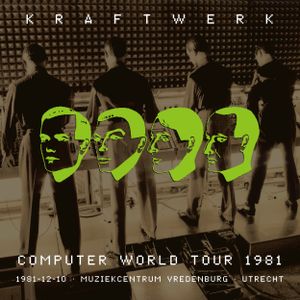 Seeing as this is my first foray into Kraftwerk live, I don't really have much to say on the matter just yet. I hope that with a few other Kraftwerk recordings, I'll have a chance to figure out better what to say. However, from what I can tell, the group is a neat experience live. They seem to replicate an album experience quite closely, though again I'm not familiar enough with the rest of their work to know if that's common. The instruments also seem to be in decent working order, and the sound on the recording was quite good. Live recordings of Kraftwerk seem to be quite rare, but the can be found from place to place.
Overall, if you're looking to dip your toes into this techno Krautrock group on a budget, this recording is a great place to start.
Please support the artists involved in this project by buying their work legitimately if you are able.
Thank you so much for reading. If you enjoyed this post, please consider donating on my ko-fi page or becoming a patron on my patreon. I appreciate your help!
Edit on 2020-05-15: added setlist info and personnel