March of 1976 saw a truly shocking moment in the world of rock 'n roll as Deep Purple shuddered to a halt, going on hiatus after a drastic decline in quality which proved as disturbing to members within the band as it was to critics and concertgoers.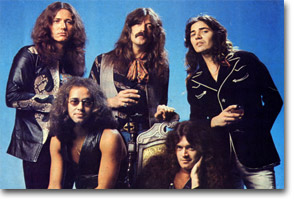 At this point in their history, an implosion was seemingly inevitable. Mark IV had always suffered from a combination of misfortune and personal problems, which included drug addictions for two members of the band. On top of this, all members of the band were likely seriously exhausted. The two remaining founding members of the band, Jon Lord and Ian Paice, had been touring the majority of each year with Deep Purple since the group formed in 1968, as well as putting out at least one album each year.
The end finally came after five dates in the United Kingdom, home to four of the five members of the band. These five dates were all back-to-back, making for what was likely a grueling week. Despite huge anticipation among concertgoers with sold-out shows across the board, the leg quickly turned into a disaster, and Deep Purple's time in 1976 ended not with a bang, but with a whimper.
It's impossible to see how this line-up could have gone any further.

Ian Paice in 1999 about Mark IV. Retrieved from here.
I recently did a writeup of each of the five dates, all listed and linked below. Together, they create a narrative of the final days of Deep Purple.
Thankfully for all people interested in the history of this band, four of the five dates on this leg were recorded. If you have heard a recording, or better yet were at one of these concerts, what do you think?
Thank you so much for reading. If you enjoyed this post, please consider donating on my ko-fi page or becoming a patron on my patreon. I appreciate your help!
Edit on 2020-09-17: Optimized for new site.