The first gig was terrifying…so I just went on, and bugger me, I'm playing with Deep Purple! [laughs]

Don Airey recalling his first concert with Deep Purple at Skanderborg.
On August 9, 2001, Deep Purple first took the stage with Don Airey at the keys. Airey had only heard he would be getting the gig with Deep Purple about two days prior to this concert. He had joined so late that he wasn't even on the advertisements for the tour.
The full group had gotten together so late that there hadn't been much time to rehearse much; the tour's opening night would have to serve as the band's dress rehearsal. This would then be a moment of truth: how would Airey, and indeed the rest of the band, handle their newfound collaboration?
The Place
Airey's debut took place in Skanderborg, Denmark, a small town close to the city of Aarhus. Less than 20,000 people live there today. It's a location with a great deal of natural beauty, located on Skanderborg Lake and surrounded by forests.
The festival which took place there, known as Smukfest, is known as one of the biggest events in the area. It first took place in 1980, and seems to have continued on without interruption until 2020's COVID-19 pandemic struck. The festival is also known for its remarkable beauty, as it is set in a beech forest, and its pleasant atmosphere. One of the quirkier elements of the Skanderborg festival is its mascot, a music-loving forest troll named FestiWalther.
The 2001 Smukfest featured four days' worth of acts, with Deep Purple performing on the first night alongside Alvin Lee and Poul Krebs. Another notable act to come to Skanderborg that year was the band A-Ha, known for their song "Take on Me".
The festival's website can be found here if readers are curious.
The Concert In Broad Strokes
According to photos, night was falling by the time Deep Purple finally took the stage. Ian Gillan apparently made a short announcement about Airey's presence before the band got going. "Woman From Tokyo" opened this historic concert. The song had been the opening number earlier on the tour as well. Fittingly, Don Airey has said that this is among his favorite songs by Deep Purple.
From there, the concert's setlist featured old favorites and more rarely-played numbers mixed in together. For the second number, the group jumped far forward in time to the days of "Ted the Mechanic", the raucous rocker which had opened the album Purpendicular and heralded that the band was in a new era.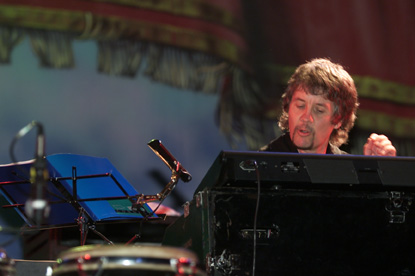 The band switched then to another number off Who Do We Think We Are, "Mary Long". Lord Longford, a moral crusader for whom the song was partially named, had passed just six days prior; the performance of this song was thus perhaps a tribute with questionable motivations. From there "Lazy", a setlist staple year in and year out, was played. This song usually featured a keyboard intro, and thus would have been Airey's first major solo with the band. After "Lazy", a pair of songs from the second half of Fireball, neither of which were played as often, were performed. These were the ironic "No One Came" and the melancholic "Fools". The latter sometimes gave Airey and Ian Paice trouble in the middle section based on recordings from upcoming concerts, so it's not improbable there were some stumbles here.
Not all setlists from this concert include the Morse-penned instrumental "The Well-Dressed Guitar", but enough do to safely suggest that it was included. This was also a new arrival, having never been played without an orchestra present. The concert thundered on after this with "Perfect Strangers", which on normal nights would also be a keyboard solo spot. Ensuing years would make this Don Airey's big moment onstage. After "Strangers" came the also less-commonly performed "When a Blind Man Cries" before the group unleashed their big hits: "Smoke on the Water", "Speed King", "Hush", "Highway Star", and "Black Night".
Recorded? Now That's The Question
There is a recording floating around claiming to be of this historic concert. Its audio syncs up perfectly with a video claiming to also be of this concert.
There are, however, some issues with this identification. First and foremost, the concert audio syncs up perfectly with another concert recording from a later date, namely the Copenhagen date just a few days after this one. What pushes my identification away from Skanderborg and towards Copenhagen is that the video also matches the photos I've seen from that particular date. A few events referenced by reviewers (which I detail below) also do not show up on the video. Thus, it can be safely said that this historic concert was not in fact recorded or videoed. If it in fact was, the tapes are not in circulation yet.
The Nuts and Bolts and Reaction
That was one great show.

Michael F. with regards to the Skanderborg concert. Retrieved from here.
As there no publicly-available recording of this concert, we cannot know for sure what happened on this night. All we to go on are reviews. If anyone reading this was there, I encourage you to comment and fill in the picture. For now, we just have to do our best and imagine what it was like.
Review after review heaps praise on the different members of the band. Some members of the audience were apparently unruly, with members Ian Gillan, Roger Glover, and Steve Morse ending up drenched by thrown drinks by some reviews. More than one highlights that Gillan and Morse in particularly had to deal with such abuse. Unfortunately, this was hardly the only time Morse had stuff thrown at him by listeners while with Deep Purple; perhaps he counted himself lucky that it wasn't spit this time!
While every permanent band member was heaped with praise and Airey was lauded for his work, Ian Gillan seems to have been the standout on this particular night. Several people commented on his extraordinary energy and how he looked and sounded better than he had in years. Later recordings from the tour would back up how good he sounded and how good of a mood he was in throughout the tour.
Several reviews also mention that the group seemed nervous, especially early on. Realization seemed to come to them that things were working out, however, which was also noticed by reviewers. Despite, or perhaps because, of the remarkable circumstances behind this concert, they managed a remarkable concert. Ian Paice was specially recognized as having looked out for Don Airey musically; this makes a bit of sense given he was the one with the most recent exposure to Airey, having played with him eighteen years prior alongside Gary Moore (and while that objectively is not recent, the point still stands). Steve Morse was also mentioned to have helped his new bandmate out, with some of their interplay highlighted. This was thus a strong beginning for the newest guitar-keyboard partnership, always considered one of the most important relationships within the Purple five-man band.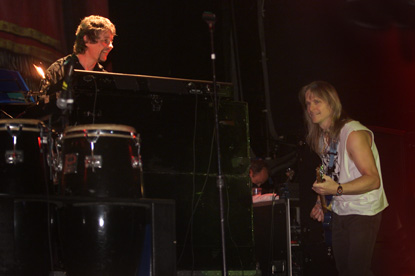 The Jutland Post, the local newspaper, reviewed the gig quite positively as well, noting how much enthusiasm the band used in their work. They even went so far as to claim that the group went after every song as if it were the first time they were playing it — normally a fairly run-of-the-mill comment, but in this case, a comment with a grain of truth for Airey!
Coda
After the concert, at least one member of the group thought to check in on the rookie:
I went up to [Don Airey] after the show and said, "Don, you did a great job. I am proud of you. Thanks a lot."

Roger Glover recounting what he said to Don Airey after the latter's first show. Retrieved from here.
Airey admitted that in this first show, his instinct was simply to follow the example set by his predecessor Jon Lord. However, he quickly went off in his own direction. While some were doubtless disappointed by this choice, it is from an artistic perspective the right one. Airey and Lord do not look alike, do not write alike, do not solo alike, and generally do not sound alike. For Airey to simply try to copy Lord's moves would be a disservice to Lord as a unique musician. Perhaps just as importantly, it would be a disservice to Airey, an artist in his own right who at this point had had a near forty-year professional career.
The apparent ease of which this sudden transition speaks well of the band's abilities. They took a massive upheaval in lineup in stride, took the stage, and apparently provided a show up to their typical standards. The ability to roll with the punches and work through less than ideal circumstances is one of the marks of true musicianship. Both Don Airey alone and Deep Purple as a whole had handled their fair share of setbacks in frayed tempers, bad weather, an injured hand, power cuts, and so on. Even so, the fact that they all pulled themselves together in this circumstance stands out as one of their great moments.
With this concert, a new era had begun for Deep Purple. At the time, it perhaps was simply seen as an anomaly, a moment of unusual circumstance and nothing more. It was in fact the first chapter in the story of the band's longest-lasting lineup.
Thank you so much for reading. If you enjoyed this post, please consider donating on my ko-fi page or becoming a patron on my patreon. I appreciate your help!
Post Sources
Location Sources
Edit on 2021-08-09: Added some sentences clarifying things