August 10, 2001 saw Deep Purple with Don Airey performing at another festival for their second date together. This festival was at Drøbak, Norway.
Airey is often referenced as the tourist of Deep Purple, often going off in whatever city the band happened to be and experiencing the place. However, even if the group did not have a significant travel day, Airey likely would not have taken the time to see the sites this early in the tour. Even though the group reportedly did well in Skanderborg, they still hadn't had much of a chance to get used to each other, and Airey was still a relative (but not perfect) stranger to the music of the band. Airey thus likely would have kept on working on the music in between these gigs rather than go exploring.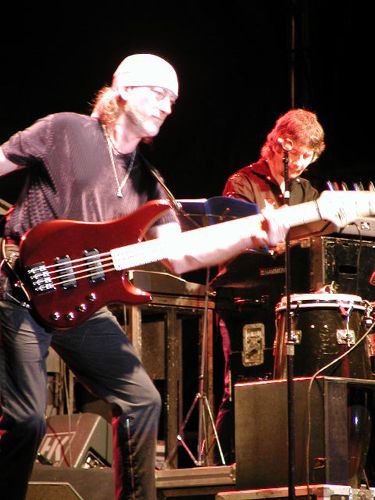 This was a a good idea, as the audience at Drøbak would include someone who would write in to the magazine Darker than Blue. The magazine had published some unkind views of his stage work back when he was in Rainbow, calling his solos "Yawnsville" during the Difficult to Cure Tour.
The Drøbak gig was another festival appearance by the band, this time at a festival dubbed "Europe's Most Picturesque". The picture painted by reviews is a vivid one, with 5000 fans milling about the grounds, pleasant weather (putting aside a little bit of rain during a single song), and Deep Purple arriving on the scene in a powerboat. The group took the stage at 10PM, about half an hour after sunset. They would have played in twilight for the entirety of their gig.
The Reviews
The guys are getting better and better.

D.H. Dahlby in a review of this concert. Retrieved from here
As with the previous night, the response among reviewers is warm. Ian Gillan is praised for his energy and performance, and the whole band was generally given high marks. Airey was mentioned as having had a few stumbles, but overall was complimented as well. The biggest difference between the this night and the previous was apparently the audience received the group much more warmly than at Skanderborg. There wasn't a projectile in sight!
As for the Darker than Blue review? Besides incorrectly attributing one of Airey's most famous gimmicks as a tribute to Jon Lord, it's overall quite positive about Airey and the rest. The reviewer, Mark Maddock, noted the talent present onstage and commenting on the camaraderie already present between the group. This camaraderie has since become a hallmark of the Airey period of Deep Purple; it's interesting to see how quickly it seemed to have come on.
Reviews are very important if we are to understand the reaction to Airey at the time of his presence. However, for this concert, we do not have to rely solely on reviews to get a picture of what happened. There is a recording, albeit incomplete, of the night. Listeners are thus free to make up their own minds about this performance. I do so below.
The Recording
This concert, as the earliest known recording of Don Airey with Deep Purple, is invaluable from a historical perspective. On one hand, it shows Airey still unused to the music, and thus with very little time to put his own spin on things. On the other hand, it shows what deviations he chose to make even with this little time to adjust. This speaks volumes to the differences between Airey and his predecessor, and serve as an excellent starting point for a comparison between the two.
The concert once again begins with "Woman From Tokyo". As always, Ian Paice is extremely steady from the start, imbuing the music with confidence. Thankfully he starts strong, as Steve Morse gives the opening notes rather early. Generally the two main instrumentalists struggle early on, as Morse's guitar playing sounds hesitant and Don Airey's entrance into the song sounds similarly timid, and the two seem to struggle to find synchronicity. Airey also has his first major stumble of the night when he gives the wrong chord to cue Ian Gillan; it sounds as if he tries to add in an extra repeat which isn't in the music! The moment is brief, though, and Gillan moves on as if nothing has happened. This is the only noticeable stumble from anyone on this song. By the time Gillan reaches the "gardens we love", the song evens out nicely.
In this middle section, Airey shows his first major deviation from the pattern set by Jon Lord and includes the Bach-Gounod Ave Maria in his line. Perhaps this jolts Morse, a self-proclaimed fan of J.S. Bach, and the two finally sync up for good to create a very beautiful interplay. The piece is carried out successfully to the end, with the energy of the players building as it goes on.
A second point of deviation occurs on "Ted the Mechanic". By now, the timidity has worked its way out of Morse and Airey's systems, and the two play the lines quite loudly. Here is where another deviation occurs; the original "Ted the Mechanic" saw Lord use some sort of synthesizer and generally remain low in the mix. This was a pattern he seems to have stuck to for concerts.
Airey, however, is very loud in this song. He generally has a very large sonic presence in stage recordings across his career, making his more timid moments in this concert and others more noticeable by contrast. Meanwhile, Airey also varied the instrumentation for this song, predominantly using the Hammond organ. All of these things speak more generally to a potential difference between Lord and Airey onstage; while Lord seems to prefer an "accent and solo" approach, playing more noticeably in his own focus spots and otherwise fading into the background, Airey is more everpresent.
It is on "Ted the Mechanic" that the concert really gets kicked into high gear, with the musicians enjoying themselves more and Airey and Morse working together more closely. Ian Gillan deserves a mention here for his energetic performance and equilibrium. He received many kudos from reviewers during this tour, something recordings like this show he deserved and then some!
During "Mary Long", another noticeable Airey-Lord difference emerges. The short, arpeggiated embellishment early in the song is played more loudly by Airey than Lord would onstage. While the difference isn't huge, it's still a bit noticeable. Between this song and Lazy, Gillan quickly introduces Airey to the audiences, voicing his and the band's gratitude for him stepping in and saying "nice one, Don!" Later in the tour, Airey would be introduced with a great deal more familiarity and far less formality; tracking this slow change in Gillan's tone is entertaining.
"Lazy" is the first of two pieces on the setlist to include a big keyboard spot. Airey only plays by himself for about a minute before Ian Paice joins in, and then the two play for about twenty seconds longer together before the piece's opening riff is heard and the solo spot ends. One minute and twenty seconds is barely any time to get to hear a solo and get to know the soloist. Perhaps Airey felt at this point that it would be better to hold back a little as a guest.
It is at this part of the concert that Roger Glover comes to the fore, playing loudly in "Lazy", "No One Came" and "Fools". Like Paice, he remains steady; both of them had some experience with Airey in the past, which perhaps gave them a bit of confidence. Glover's bass tone is also always quite welcome in the mix, though it doesn't always show up in concerts.
On "Fools", that steadiness again was useful, as this song featured the second of Airey's major stage stumbles. During the mid-piece keyboard solo (which a guitar solo in the studio; I deal with "Fools'" general adaptation for the stage here), during which the keyboardist plays accompanied by Paice on drums and Gillan and Glover on maracas, Airey falls out of sync. Thankfully, Paice quickly does a course-correct and everything comes back together fairly fast.
The next song, "The Well-Dressed Guitar" is one of the pieces in Deep Purple's canon with an unusually high rate of errors. That is to say, there aren't many, but it still has issues more commonly than usual. On this night, though, it comes off without a hitch, with it's usual relentless energy and melodic interplay. From there, Airey launches into his major keyboard spot for the night.
One of Airey's most notable traits during his solos is the use of quotations in his solos. Not only is it the quotations, though, but how he uses them to communicate with the audience. He often includes local songs to appeal directly to audiences. On this night, he begins with a reference to another part of another Deep Purple piece: part of Steve Morse's "Fools" run. From there, he breaks into "Morning Mood" from Edvard Grieg's Peer Gynt Suite No. 1, one of Grieg's most famous pieces. Then he turns to his standard quotations for this tour: Mozart's "Rondo alla Turk" (a pity that the group's planned Istanbul gig was cancelled!), Rachmaninov's "Prelude in C-sharp Minor", and Gershwin's "Rhapsody in Blue". One last reference comes at the start of "When a Blind Man Cries", this time a quote of Samuel Barber's Adagio for Strings.
"Smoke on the Water" follows these songs; Airey steps back again for this song, leaving it guitar-led. The recording is sadly incomplete, ending in the middle of "Speed King", the song following "Smoke". Before it ends, however, there is one last chance at interplay between Morse and Airey in the form of riff-trading. The two go on for a long time, not copying one another note for note but clearly playing off one another. The tape sadly fades before listeners can reach the conclusion of their riff-trading, but we can still get a solid picture of what happened at this concert.
Conclusion
In this recording, we can see differences between Airey and Lord emerging even at this early phase in Airey's work with Deep Purple. Also apparent is that Airey is not infallible, but none of his mistakes are catastrophic. Whenever he stumbles, someone else in the group can pick up the slack. This speaks incredibly well to Deep Purple's collective strength at this period in their career.
With another success under their belts, the group doubtless moved on with growing confidence.
Thank you so much for reading. If you enjoyed this post, please consider donating on my ko-fi page or becoming a patron on my patreon. I appreciate your help!
Post Sources