Emerson, Lake & Palmer performed on this day in 1973 at Friedrich-Eberthalle in Ludwigshafen, Germany.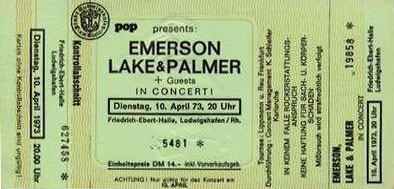 After a spate of cancelled dates in France, ELP resumed their Get Me A Ladder Tour, returning to Germany, where the tour had originally begun. This tour could be seen as a staging ground for their upcoming Brain Salad Surgery Tour, featuring a similar level of remarkable theatrics.
This concert is known to have been recorded. It is in circulation online.
The band appeared at Friedrich-Eberthalle, a stadium which has very little English information available. It was built in 1965, and is known for an architecturally interesting exterior.
There are multiple spaces within the venue; I am guessing (but cannot confirm) that the band performed in the Great Hall, which can hold as many as 4,100 people.
Its website can be found here, and a virtual tour of the site with some interesting information can be found here.
Thank you so much for reading. If you appreciate what I do, consider donating on my ko-fi page or becoming a patron on my patreon! I'm planning on upgrading my wordpress plan to a premium one, which would allow me to improve my readers' experience. Since I'm fairly broke, I would love it if the costs were offset a bit. Thank you!
Venue Sources