Rainbow performed on this day in 1981 at the Kiel Auditorium in St. Louis, Missouri.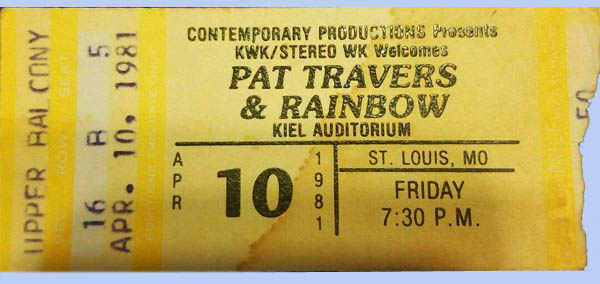 Rainbow were at this point on their Difficult to Cure Tour, a massive world tour which took place throughout 1981. They began the tour in North America, first with a set of small club dates, then with a set of dates co-headlined with guitarist Pat Travers, a Canadian guitarist who also had a new album to support.
This tour also saw a blurring of the line between Rainbow and guitarist Ritchie Blackmore's old band Deep Purple, with a few more songs from the latter band making their way to the setlist. Prior to this, only "Mistreated" from Purple's Mark III lineup had been performed regularly Rainbow. It had been a setlist staple early in the band's existence, though as the years went by it was phased out. Now, however, "Smoke on the Water" and "Lazy" began appearing regularly on the setlist.
8,100 people apparently came to this particular concert. A review for this show suggests Rainbow weren't particularly memorable on this particular night, going so far as to criticize the appearances of band members and suggesting that their generally unique fashions belied a disjointed setlist. However, it also mentioned that the crowd went wild when "Smoke on the Water" made an appearance.
There is no known recording of this concert.
Thank you so much for reading. If you appreciate what I do, consider donating on my ko-fi page or becoming a patron on my patreon! I'm planning on upgrading my wordpress plan to a premium one, which would allow me to improve my readers' experience. Since I'm fairly broke, I would love it if the costs were offset a bit. Thank you!
Post Sources: