Rainbow performed on this day in 1981 at Ellis Auditorium North Hall in Memphis, Tennessee.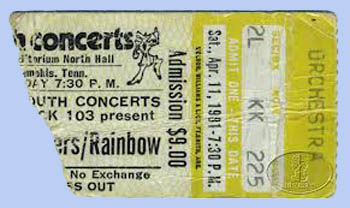 Rainbow were at this time touring in support of their album Difficult to Cure, which had been released about two weeks before the tour began. The album and tour marked Rainbow's permanent turn to a more mainstream sound, intended by guitarist Ritchie Blackmore to be more chart-friendly.
On this portion of the tour, they were joined by Canadian guitarist Pat Travers, also touring in support of a recently-released album, and a succession of support acts. For this particular gig, the supporting band was Krokus.
There is no known recording of this particular concert.
Thank you so much for reading. If you appreciate what I do, consider donating on my ko-fi page or becoming a patron on my patreon! I'm planning on upgrading my wordpress plan to a premium one, which would allow me to improve my readers' experience. Since I'm fairly broke, I would love it if the costs were offset a bit. Thank you!