3 performed on this day in 1988 at Hammerjacks in Baltimore, Maryland.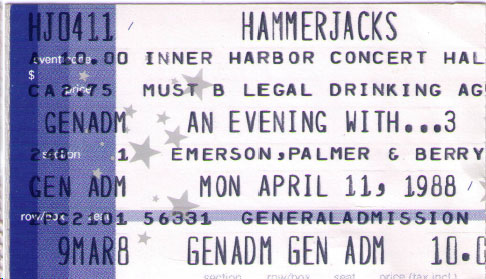 Emerson, Berry and Palmer, known also simply as 3, only went on a single North American tour. During this time, they played at small venues, making for a more intimate atmosphere.
At these concerts, the group stuck mostly to their own repertoire. Also performed were a handful of ELP instrumental pieces. The group even reached into keyboardist Keith Emerson's earliest days as a musician; the concerts usually ended with a medley of "America" and "Rondo" both premiered by the Nice. This was carried back to ELP after 3 disbanded and ELP restarted.
There is no known recording of this concert.
The venue at which the band performed, Hammerjacks, was actually the second club to carry that name. The first Hammerjacks opened in 1977 and quickly became a leading venue for the Baltimore music scene. This second club, at which 3 performed, opened in 1981 and was demolished in April of 1997 to make room for a parking lot. The newest Hammerjacks is scheduled to open in 2020; I'm not sure if the coronavirus pandemic has altered these plans at all. Its website can be found here.
Thank you so much for reading. If you appreciate what I do, consider donating on my ko-fi page or becoming a patron on my patreon! I'm planning on upgrading my wordpress plan to a premium one, which would allow me to improve my readers' experience. Since I'm fairly broke, I would love it if the costs were offset a bit. Thank you!
Venue Sources