Rainbow performed on this day in 2018 at the Hartwall Arena in Helsinki, Finland.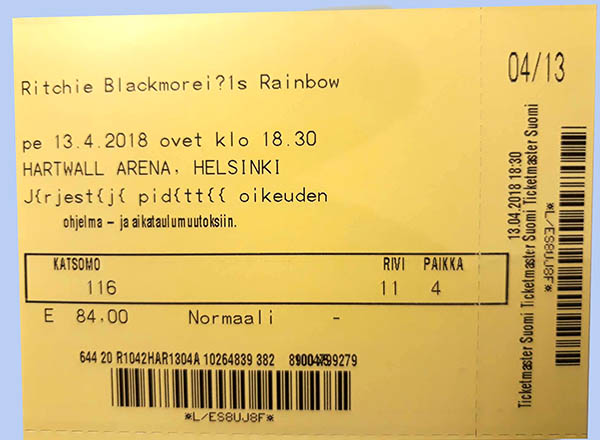 Rainbow were at this point smack-dab in the middle of their short Memories in Rock 2018 tour, a chance for fans to catch guitarist Ritchie Blackmore playing some of the hits of his career. Although it was formally done under the name Rainbow, the band also pulled in several songs from Blackmore's tenure with Deep Purple.
The setlist overall changed slightly from night to night; tonight's variation meant an inclusion of "Sixteenth Century Greensleeves", which had not been played during the previous two concerts.
This concert also took place on the eve of Blackmore's birthday, a fact that bassist Bob Nouveau and the audience decided to celebrate…which seemingly did not go over well with the object of the celebrations! Some reviews have also speculated that this led to a lack of encores at the end of the concert, which led to disappointment among the audience.
Perhaps this could be looked at as yet another tradition of Rainbow's that this new lineup has now honored; the band has had a history of encores being left off as a response to perceived bad behavior from audience members. Thankfully, unlike a particularly infamous 1980 concert when fans responded to a withheld encore by rioting, no violence resulted this time!
Overall, reviews all highlight the incredible excitement of audience members at getting a chance to see Rainbow live, as well as the confusion at the abrupt end of the concert. The musicianship of the concert was also generally praised, with a few people especially noting Jens Johansson's and Ronnie Romero's abilities. Blackmore himself was said to have had an off night, but the excitement of the crowd was not to be dampened.
As with all of the dates on this tour, there is extant audio and video of the concert. They are both in circulation online.
Thank you so much for reading. If you appreciate what I do, consider donating on my ko-fi page or becoming a patron on my patreon! I'm planning on upgrading my wordpress plan to a premium one, which would allow me to improve my readers' experience. Since I'm fairly broke, I would love it if the costs were offset a bit. Thank you!
Post Sources