The guitarist Richard Hugh Blackmore was born on this day in 1945.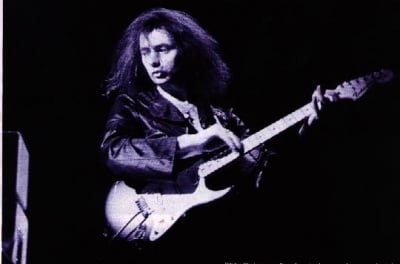 Blackmore is best known as the first guitarist in the band Deep Purple, with whom he helped create many of their early noted songs. After parting ways with the group for the first time, Blackmore joined with singer Ronnie James Dio to found the band Rainbow. Between these two bands, Blackmore earned himself a major following among hard rock and heavy metal fans. Despite his famously difficult personality, even sometimes towards fans, he is fairly popular among followers of the genre.
In 1997, Blackmore transitioned from rock 'n roll to medieval and Renaissance-influenced folk music with the help of his romantic and creative partner, Candice Night, and a rotating panel of many other collaborators; this has ended up being his longest continuous collaboration in his career.
Today is a day to celebrate this musician's very unusual path through music, touching on a great many genres–sometimes multiple at once!
Thank you so much for reading. If you enjoyed this post, please consider donating on my ko-fi page or becoming a patron on my patreon. I appreciate your help!