Rainbow performed at the International Amphitheatre in Chicago on this day in 1981. They appeared on the bill with the Pat Travers Band.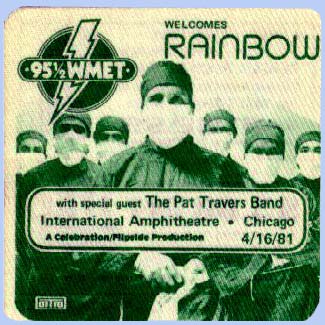 Rainbow was on the first leg of their Difficult to Cure tour, in support of the album of the same name. Difficult to Cure, with its inclusion of singer Joe Lynn Turner, signaled the band's permanent turn to the hit-hungry AOR sound which followed them for the remainder of their 80s tenure. Fan favorite Cozy Powell had also departed in exchange for Bobby Rondinelli.
The setlist consisted of several numbers from the newest album, including the title track and "Spotlight Kid". It also featured old songs updated for Turner's poppier style, such as "Catch the Rainbow". Most notable was the inclusion of Deep Purple Mark II numbers, including "Smoke on the Water". While they had shown up in snippets on the Down to Earth tour, this was probably the point at which Ritchie Blackmore began conflating the two bands onstage, hand in hand with the emergence the myth that he was the only member of either band who mattered. A similar phenomenon occurred once Joe Lynn Turner was imported over to Deep Purple in the early 90s and Rainbow numbers began sneaking into the setlist (source).

The concert has been recorded and is in circulation online. It is the first concert from the Travers leg of the band to have been recorded as far as we know thus far.
I talk more about the International Amphitheatre here.
Thank you so much for reading. If you want to help me improve my site and help it take shape for the future, please take this survey. If you appreciate what I do, consider donating on my ko-fi page or becoming a patron on my patreon! I'm planning on upgrading my wordpress plan to a premium one, which would allow me to improve my readers' experience. Since I'm fairly broke, I would love it if the costs were offset a bit. Thank you!