Rainbow performed on this day in 1981 at the Convention Center in Indianapolis, Indiana.

The band were at this point on their Difficult to Cure Tour, which first reached North America. They had been going relatively steadily since February, when they first performed at the Peppermint Club at Virginia Beach. At this point, they were coheadlining a set of dates with Canadian guitarist Pat Travers. On some nights, it was Travers billed first; Rainbow took top billing other nights.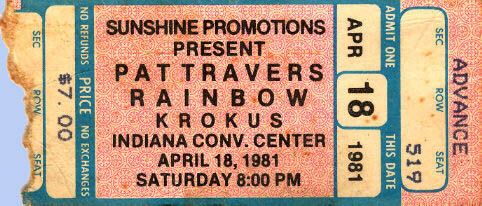 While Travers was first on the bill for the Indianapolis show, he was actually ill and missed the concert. However, his band reportedly played without him.
There is no known recording of this concert.
Thank you so much for reading. If you appreciate what I do, consider donating on my ko-fi page or becoming a patron on my patreon! I'm planning on upgrading my wordpress plan to a premium one, which would allow me to improve my readers' experience. Since I'm fairly broke, I would love it if the costs were offset a bit. Thank you!
Post Sources