Rainbow performed on this day in 2018 at the O2 Arena in Prague, Czech Republic.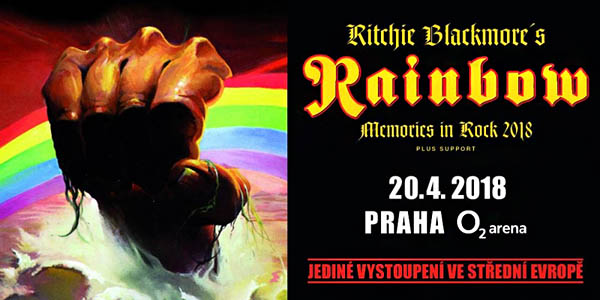 This concert was the last of five tour dates on Rainbow's Memories in Rock 2018 Tour, a chance for the modern lineup of Rainbow to tour four countries in Europe. They brought a set filled with nostalgia for guitarist Ritchie Blackmore's career from the mid-seventies to the early eighties to audiences in Russia, Finland, Germany and now the Czech Republic.
After this concert, Rainbow finished up for 2018. Blackmore's Night would go on tour later in the summer, taking four of the seven members of this current lineup of Rainbow back onto the touring circuit. In 2019, Rainbow would go on tour once more, as well was release two studio covers.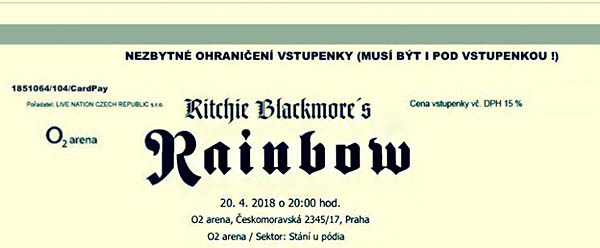 One major thing occurred on this night in terms of setlists which set it apart from the other nights on tour; a song that reached past the first five albums the band released was put on the list. "Street of Dreams" from the Rainbow album Bent out of Shape found its way onto the stage. This would be the most recent song from the Rainbow side of things to appear onstage with the band. The most recently written overall would be "Perfect Strangers", a song from Deep Purple's canon.
As usual for this tour, reviews from the night were split. While some praised the band, more that I have read were negative, criticizing the group's low energy. Ronnie Romero apparently had issues connecting with the crowd, something which had happened to him the previous night as well. The sound of the band was also criticized, with a comment that one could barely hear anything over the guitar. Finally, there were suggestions that the promoters had inaccurately represented the crowd size, and that either way this was not a sold-out concert.
This concert, like the rest of this tour, has been recorded both in audio and video format, and is in circulation online. For this one, I personally threw my hat in the ring as well, reviewing it here. I personally was unimpressed. Maybe you won't be, though, and I encourage you to make up your own minds if you've the time or interest.
Thank you so much for reading. If you enjoyed this post, please consider donating on my ko-fi page or becoming a patron on my patreon. I appreciate your help!
Post Sources
Edit on 2020-09-19: Optimized for new site