Rainbow performed on this day in 1981 at the Palmer College Alumni Auditorium in Davenport, Iowa.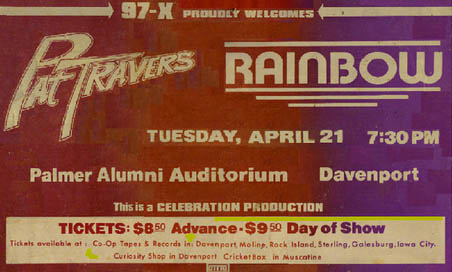 Rainbow were well into their Difficult to Cure Tour at this point. Their experience in North America thus far could be broken into two portions. For the first four dates of the tour, the group had played small club venues. Then, for the second portion, they had co-headlined their tour with Canadian guitarist Pat Travers.
A review for this particular concert suggests the group had trouble connecting to the audience until the last few numbers, the riotous "Long Live Rock 'n Roll" and a Deep Purple classic, "Smoke on the Water". Singer Joe Lynn Turner received specific criticism for being unable to fully connect with the audience.
There is no known recording of this concert.
Thank you so much for reading. If you appreciate what I do, consider donating on my ko-fi page or becoming a patron on my patreon! I'm planning on upgrading my wordpress plan to a premium one, which would allow me to improve my readers' experience. Since I'm fairly broke, I would love it if the costs were offset a bit. Thank you!
Post Sources