3 performed on this day in 1988 at the Agora in Cleveland, Ohio.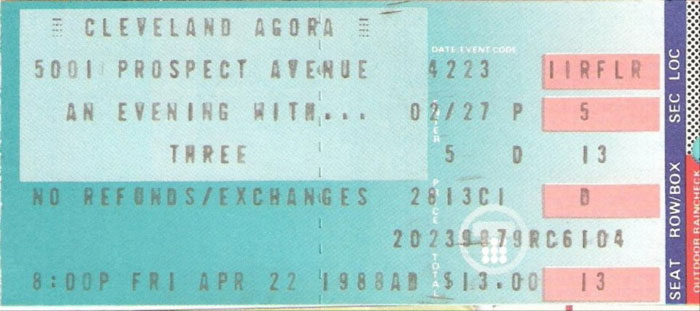 3, consisting of Keith Emerson, Robert Berry, and Carl Palmer, had begun their sole tour in small clubs and cabarets. In this phase of the tour after returning from three gigs in Canada, however, they also interspersed concerts in theater settings with the club gigs.
On a standard night, the band performed mostly songs from their album, To the Power of Three. Combined with these were a few instrumental numbers from Emerson, Lake & Palmer. Keith Emerson also performed a few of his solo numbers; on nights from which we know the setlist, these would have been "Dream Runner" and "Creole Dance".
There is no known recording of this particular gig.
The Agora Theater and Ballroom was one of the major venues at the time for rock 'n roll in Cleveland. It was originally opened by jukebox record distributor Henry LaConti Sr in 1966, though it changed locations a few times, most recently in 1984.
The Agora has a high profile as a venue in part thanks to the fact that it held the first in-house recording studio in the U.S., which opened at the first location in 1968. There was even a television program, "Onstage at the Agora", filmed there!
The current building hosting the Agora was formerly the Metropolitan Theatre, which opened in 1913. It functioned as a movie theater until the 1950s, then as a meeting spot. The building holds a ballroom and a theater; 500 people can be housed in the former, 2000 in the latter. I am unsure whether 3 performed in the ballroom or in the Theater
A list of notable performances which took place at the Agora over the years can be found here. This covers all of the different venues the Agora was housed in.
The theater is still in operation today after having undergone another renovation. You can find its website here.
Thank you so much for reading. If you appreciate what I do, consider donating on my ko-fi page or becoming a patron on my patreon! I'm planning on upgrading my wordpress plan to a premium one, which would allow me to improve my readers' experience. Since I'm fairly broke, I would love it if the costs were offset a bit. Thank you!
Venue Sources