'88 in Cincinnati was beyond special.

Anonymous testimony about 3's performance. Collected by me from this survey.
3 performed on this day in 1988 at Bogart's in Cincinnati, Ohio.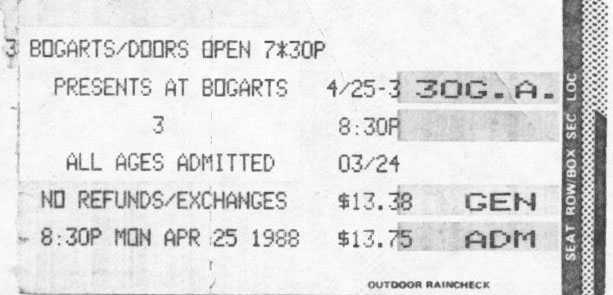 3 were at this time performing in the midwestern United States, a long way from New York State and the age-restricted gigs! The group, consisting of Keith Emerson, Robert Berry, Carl Palmer and a few touring members, were at this point zigzagging through these states in a slow journey west.
The sole review from the show that I have found, by an individual who traveled 200 miles to see this gig, was that it was worth every mile.
There is no known recording of this concert.
The venue at which the band performed, Bogart's, is in the running for oldest building at which the band performed. The building was originally built in 1890, according to county records!
The building first functioned as a vaudeville theater upon its opening. Later, it was converted into a German film theater, then an entertainment venue/restaurant, and finally acquired its present name.
As a music venue, Bogart's holds 1,500 people. It still is in operation today, and its website can be found here.
Post Sources
Anonymous concert attendee; testimony collected by survey
Venue Sources
Edit on 2020-10-01: Added advertisement.