Rainbow performed on this day in 1981 at the San Antonio Convention Center Arena in San Antonio, Texas.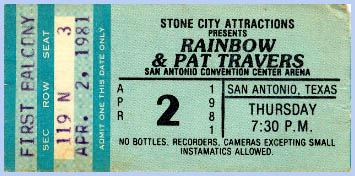 Rainbow were at this time on their Difficult to Cure Tour, which according to records in setlist.fm was the longest tour the group undertook. This particular leg saw them joining forces with Canadian guitarist Pat Travers and a variety of support acts as they crossed the United States.
This tour also saw the group introducing a new, poppier sound to their fans. Even within the band, however, there was at least one member who did not agree with this direction, as a recently-digitized interview shows. That member was Don Airey, who apparently felt the band was starting to sound too much like Foreigner. He would leave the band after the tour ended.
There is no known recording of this concert.
Thank you so much for reading. If you enjoyed this post, please consider donating on my ko-fi page or becoming a patron on my patreon. I appreciate your help!