Rainbow performed on this day in 1981 at the Stanley Theater in Pittsburgh, Pennsylvania.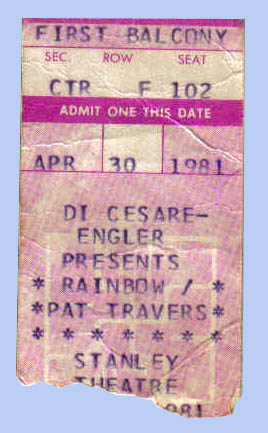 Rainbow were at this point on their Difficult to Cure Tour, which had so far taken them throughout North America. They were touring with Canadian guitarist Pat Travers for these concerts, and would do so for all but one of their remaining concerts. Reviews suggested that Rainbow's set did not go over as well as their co-headliner, and that guitarist Ritchie Blackmore's performance was slightly uneven. However, the reviewer still seemed to think they had done well overall.
This concert is known to have been recorded, and is in circulation online.
Rainbow had already performed at the Stanley Theater, most recently on their Down to Earth tour in 1979. I talk more about that venue here.
Thank you so much for reading. If you appreciate what I do, consider donating on my ko-fi page or becoming a patron on my patreon! I'm planning on upgrading my wordpress plan to a premium one, which would allow me to improve my readers' experience. Since I'm fairly broke, I would love it if the costs were offset a bit. Thank you!
Post Sources