Rainbow performed on this day in 1981 at the Old Lady of Brady Theater in Tulsa, Oklahoma.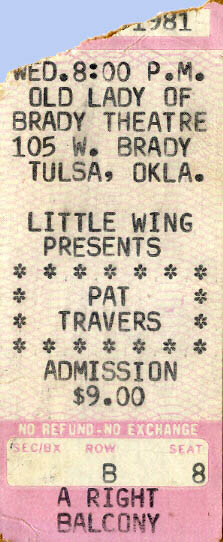 Rainbow was at this point on their Difficult to Cure Tour. For this set of dates, they had teamed up with Pat Travers. It seems that Travers was quite popular throughout the American Southwest, as he gets the lion's share of advertising. By comparison, Rainbow weren't even on the ticket for this show! They had gotten similarly quiet responses from ad agencies in Texas.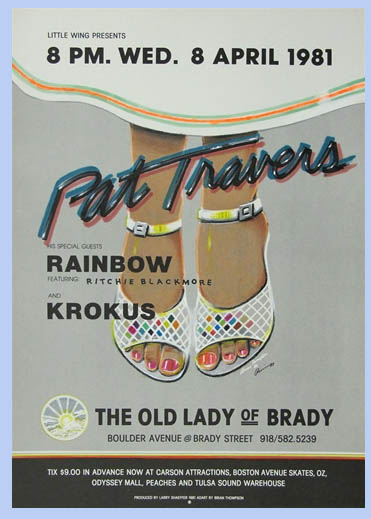 No recording of this concert is known to exist.
The venue at which the band performed was formally known at this time as the Brady Theater, gaining its moniker "The Old Lady of Brady" from locals. It was designed by Kansas City architectural firm Rose and Peterson and completed in 1914. The first major historical event to occur here was a Tulsa race riot seven years later.
In 1932, the interior was redesigned to a more refined, Art Deco-style hall by architect Bruce Goff. The hall could hold 4,200 people, billed as the largest hall between Kansas City and Houston, and from the early days it saw a great deal of artistic traffic. Here are some of the acts which have come through here over the years.
The building was known as the Tulsa Convention Center between 1952 and 1979, after which time it was redubbed the Brady Theater after the street it sat on. Unfortunately, the businessman namesake was eventually discovered to have had serious ties to the KKK, prompting the citizenry of Tulsa to pull the name from the street. It has been on the National Register of Historic Places since 1979 and still operates to this day; its site can be found here.
Incidentally, the theater is said to be haunted by the ghost of tenor Enrique Caruso, who is said to have caught the cold which killed him in 1920 from the Oklahoma weather. As Rainbow guitarist Ritchie Blackmore holds a fascination with the occult, he doubtless would have enjoyed a performance in a haunted theater!
Thank you so much for reading. If you appreciate what I do, consider donating on my ko-fi page or becoming a patron on my patreon! I'm planning on upgrading my wordpress plan to a premium one, which would allow me to improve my readers' experience. Since I'm fairly broke, I would love it if the costs were offset a bit. Thank you!
Venue Sources