Rainbow performed on this day in 1981 at the Lloyd Noble Center in Norman, Oklahoma.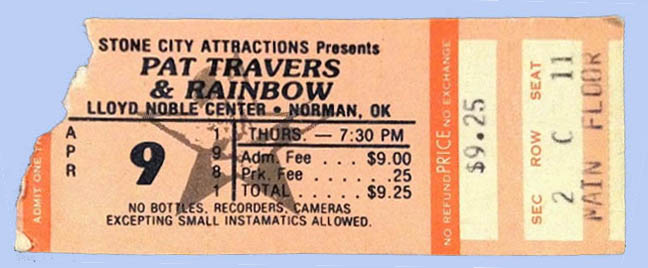 Rainbow were on their Difficult to Cure Tour at this point, the first tour with singer Joe Lynn Turner and drummer Bobby Rondinelli. Keyboardist Don Airey, guitarist Ritchie Blackmore, and bassist Roger Glover were returning from previous tours. With the exception of Airey, who would tender his resignation at the end of the tour after being left alone onstage in Hawaii, this whole lineup remained together until Rainbow disbanded in March of 1984.
In these concerts, Rainbow was on the same bill as guitarist Pat Travers, known at this point for songs such as "Boom Boom! Out Go the Lights". A rotating set of support acts also joined these two on the tour. At this particular date, the band was joined by Krokus.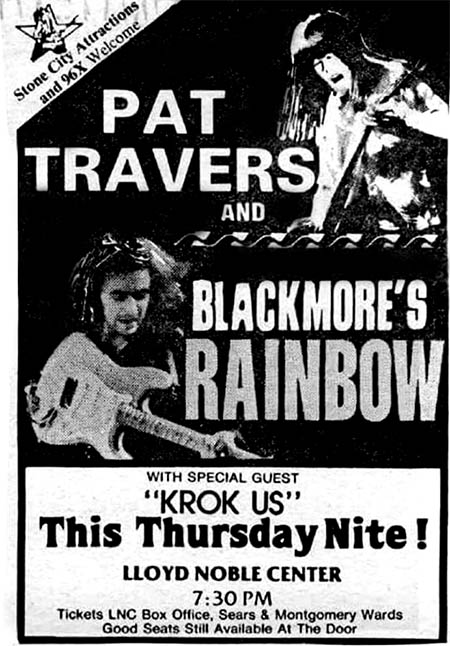 There is no known recording of this concert.
The band performed at the Lloyd Noble Center, a sports arena attached to the local University of Oklahoma.
The venue first opened on October 27, 1975. It primarily serves as a basketball arena, the home arena of the Sooners. The arena seats a total of 11,562. Here are some of the other concerts which have occurred here over the years.
The arena is still in use today; here is it's site. Upcoming events can be found here.
Thank you so much for reading. If you enjoyed this post, please consider donating on my ko-fi page or becoming a patron on my patreon. I appreciate your help!
Venue Sources