Dream Theater, Emerson, Lake & Palmer, and Deep Purple performed on this day in 1998 at the Pine Knob Music Theater in Clarkston, Michigan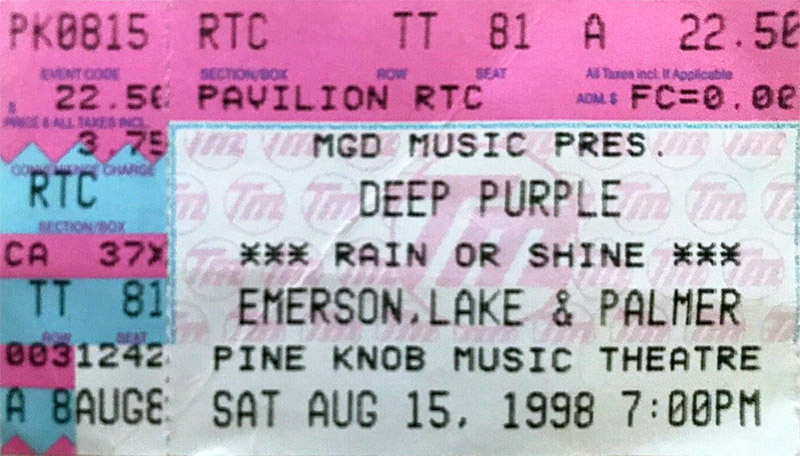 The three bands had come together for a nearly month-long tour of North America, combining to be a prog rock/hard rock extravaganza.
The three bands enjoyed a surprising amount of overlap for those unfamiliar with their histories. Dream Theater had already covered one of Purple's most played songs, "Perfect Strangers", on an album of their own, though there's no evidence that it was included at all on this tour. Mike Portnoy, their drummer at this time, would later join Purple's guitarist Steve Morse in progressive rock supergroup Flying Colors. A future member of the Dream Theater, Jordan Rudess, had formerly played with Morse in the Dixie Dregs and would later fill in for Purple on a single date when their own future keyboardist, Don Airey, was unable to attend for medical reasons. Rudess would one day cover "Tarkus" by ELP as well in his own work.
ELP and Purple, meanwhile, had had a surprisingly connected history. Emerson was Purple's first known onstage guest early in 1970. The two bands then headlined California Jam together in 1974.
ELP's set was the only one known to be recorded on this night. Recordings of Deep Purple and Dream Theater have yet to surface, if they are extant at all.
Thank you so much for reading. If you enjoyed this post, please consider donating on my ko-fi page or becoming a patron on my patreon. I appreciate your help!