Touch, Riot, Saxon, April Wine, Scorpions, Judas Priest, and Rainbow performed on this day in 1980 at Donnington Park in Castle Donington, England.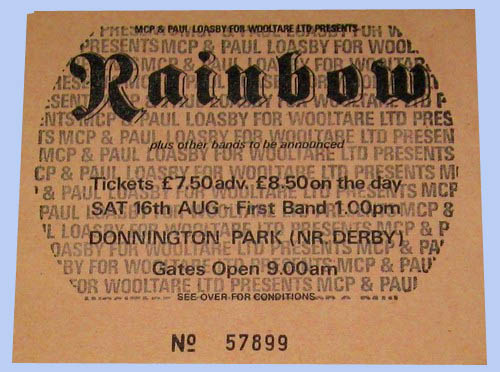 This was the first Monsters of Rock festival, which would run most years from 1980 until 1996, and see spinoffs in multiple other countries. Promoter Paul Loadsby apparently envisioned something to rival the Reading Festival, then the foremost hard rock festival in England. To do so, he gathered several well-known and up-and-coming hard rock and heavy metal acts in Donington. He also spent a great deal of effort on a quadrophonic sound system and a light show to especially wow the crowd. However, the sound system was damaged the day prior to the concert. The culprit was none other than Cozy Powell and his pyrotechnics as they were being tested in an explosion which was apparently heard three miles away! Given the display the next night was cited in several recollections I read as a highlight of their show, perhaps it was worth it!
Somewhere between 50,000 and 70,000 fans attended this day of music. Rainbow in particular is remembered to have performed a very good concert, with many people praising the different members and the set in particular. The show the band put on, including the many fireworks and different pyrotechnics displays.
This should have been a triumphant culmination of a year's hard work. They had been on tour on and off supporting their album Down To Earth since the previous September. The lineup had survived a great deal at this point, including a fistfight involving multiple group members, illness, and riots. What finally provided the straw that broke the camel's back is not clear, but for whatever reason, Cozy Powell chose to make this his last concert. Powell was at the time the last member from the Dio era of the band other than guitarist Ritchie Blackmore.
Aftermath
The festival was apparently not a financial success, but was such an artistic feat that the promoter was glad it had happened. Given the festival continued for several years after, he hopefully made up for his initial losses!
The band Saxon wrote a song about this festival as a whole, "And the Bands Played On". The song appeared on the album Denim and Leather.
In Rainbow
After leaving Rainbow, Cozy Powell dedicated himself to various projects throughout the 80s. These included two solo albums, Tilt and Octopuss. He then joined the Michael Schenker Group, Whitesnake, and eventually Emerson, Lake & Powell. His legacy as one of the foremost drummers on the hard rock scene was sealed for good when he joined Black Sabbath near the end of the decade. In between these, he also undertook several collaborations, including with former Rainbow bandmates Graham Bonnet on his solo album Line-Up and Don Airey on his solo album K2: Tales of Triumph and Tragedy.
Powell's departure very nearly tore Rainbow apart. During sessions for the next album, for which drummer Bobby Rondinelli was brought in, Airey apparently also said he would quit. He eventually chose to stay in the band, though reports throughout the next year suggest he wasn't as happy as he had been with the first lineup. He left just over a year after this concert after being abandoned by the rest of the band onstage in Hawaii.
Singer Graham Bonnet, who had become close to both Powell and Airey, also decided to leave. He would be replaced by Joe Lynn Turner, the band's second American singer. Bonnet's career uncannily copied fellow Rainbow alum Cozy Powell's; he released a solo album, Line-Up, before joining the Michael Schenker Group. However, by the time he reached MSG, Powell had moved on. Bonnet himself founded the outfit Alcatrazz. Alcatrazz has remained active on and off down to the present day.
Rainbow continued for about four more years, finally splitting for the first time when guitarist Ritchie Blackmore and bassist Roger Glover returned home to Deep Purple. They were the only two members of the Down to Earth Lineup to remain until the band's first split.
Rainbow's portion of the concert was officially recorded and released as a live album. It was also filmed, and the video has similarly been released officially.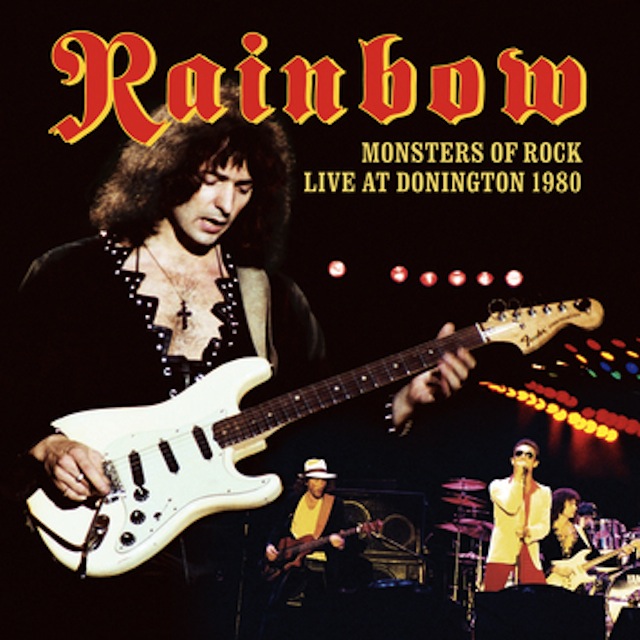 Thank you so much for reading. If you enjoyed this post, please consider donating on my ko-fi page or becoming a patron on my patreon. I appreciate your help!
Post Sources