Emerson, Lake & Palmer performed on this day in 1977 at the Aladdin Theater in Las Vegas, Nevada.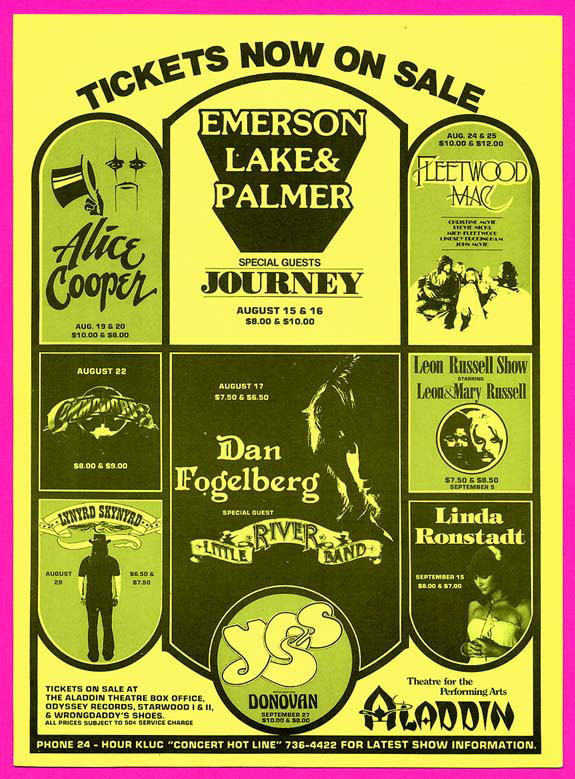 This was the band's second consecutive night in Las Vegas. They stopped in the city for the first time in their career on their Works Tour. The tour was undertaken to support the album of the same name. The tour experienced some issues early in its run with finances, forcing the band to part ways with the orchestra they planned to take across the country with them. Near the end of August, they would reunite with the orchestra for one last concert in Montreal. Until then, they performed as a three-piece.
In several West Coast concerts, ELP were joined by the band Journey. This was the same Journey which would one day release "Don't Stop Believin'". At this point, however, they were not nearly as well-known as they would become.
That night, other events in the music industry doubtless overshadowed the group's concert. One of Las Vegas' more well-known stars, the King of Rock himself, died that day. Elvis Presley's death was apparently announced the next day, but Greg Lake remembered that night hearing over the intercom about his death. He also recalled the lights dimming all along the Las Vegas strip as a sign of respect. The band had actually seen Elvis at one of his final concerts earlier in the summer, but had walked out when it became apparent that he was no longer a competent performer.
For Lake, it was a particularly sad moment, as Elvis was an artist he was fond of. On his final tour, the Songs of a Lifetime tour, he would occasionally play some of Elvis' work.
There is no known recording of this particular concert.
Thank you so much for reading. If you enjoyed this post, please consider donating on my ko-fi page or becoming a patron on my patreon. I appreciate your help!
Post Sources
Lake, Greg. Lucky Man. p 209-210