1,000 people and a 4 out of 10, with trouble getting the gear set up.

Cozy Powell from his tour diary about this gig.
Emerson, Lake & Powell performed on this day in 1986 at the Lloyd Noble Center in Norman, Oklahoma.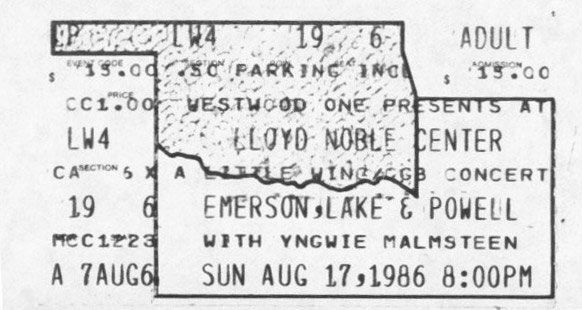 This was the second date on Emerson, Lake & Powell's sole North American tour.
The tour was plagued throughout by poor scheduling choices and troubling venue locations. This concert, for instance, occurred the night before class registration would begin at the University of Oklahoma, the location on which the venue was situated. As far as I can figure, this would mean most college students would be otherwise occupied.
Yngwie Malmsteen was originally booked as the supporting act. However, he was quickly let go on the first night of the tour. He was still on the posters for this date, so his absence likely was a shock to most people who had shown up.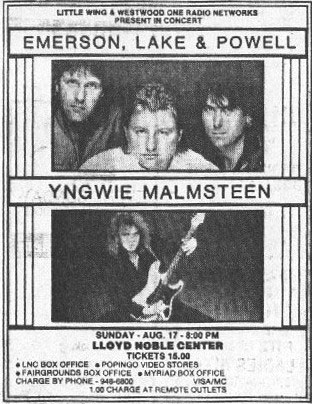 There is no known recording of this particular concert.
I talk more about this venue, the Lloyd Noble Center, here.
Thank you so much for reading. If you enjoyed this post, please consider donating on my ko-fi page or becoming a patron on my patreon. I appreciate your help!
Post Sources