Rainbow performed on this day in 1981 at the Sun Palace in Fukuoka, Japan.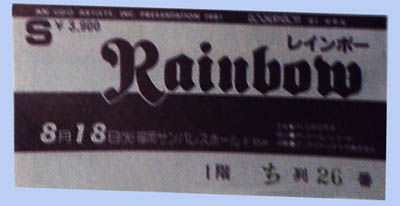 The final tour leg of Rainbow's Difficult to Cure Tour had officially begun. This leg of the tour would see them in Japan and Hawaii supporting the album of the same name. Rainbow had always enjoyed a warm reception in Japan regardless of the lineup which visited.
By this point in Rainbow's life, influence from Deep Purple began seeping in. Nothing said this better than the fact that this show and others on this tour saw Rainbow tackling "Smoke on the Water"; this song is undisputedly Purple's most popular. Fittingly enough, four of the five people involved in this tour were former or future members of Deep Purple. Ritchie Blackmore and Roger Glover had been in the band prior to Rainbow and would return after it disbanded in 1984. Joe Lynn Turner served as the band's only American singer in the early 90s, and Don Airey joined up in 2001 as a touring member; his membership in Purple became permanent the next spring.
This concert is known to have been recorded. It is in circulation online.
Thank you so much for reading. If you enjoyed this post, please consider donating on my ko-fi page or becoming a patron on my patreon. I appreciate your help!