5,000 people and 6 out of 10. Good gig, haven't played better.

Cozy Powell in his tour diary regarding this date
Emerson, Lake & Powell performed on this day in 1986 at the Lakefront Arena in New Orleans, Louisiana.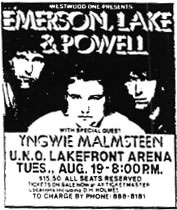 This was the third date of ELPowell's sole tour, which took them through North America. Cozy Powell kept careful notes both of the days on and off the tour, preserving his reactions to the dates as they came. Unsurprisingly as a member of the ELP extended family, Powell was quite hard on his performance with the group. He claimed later that he greatly enjoyed the challenge brought on by performing with Keith Emerson and Greg Lake.
Another important piece of historical information comes from this tour diary, namely estimates at turnout. ELPowell struggled to fill the stadiums at which they had been booked, causing financial struggles throughout the tour. It was a mistake the next ELP spinoff band, 3, would not repeat. While I don't have exact financial records, it seems based on my knowledge of the tour that 3 had greater success in that field than ELPowell did.
This concert is known to have been recorded, and is in circulation online.