Rainbow performed on this day in 1981 at the Nagoya-Shī Kokaido in Nagoya, Japan.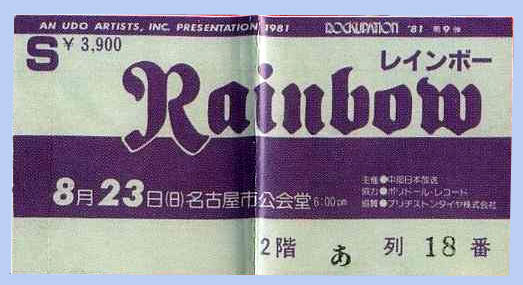 Rainbow were at this point slowly but surely wrapping up their Difficult to Cure Tour, which had begun six months earlier in Virginia Beach. They toured in support of the album of the same name, which already in reviews was proving divisive among Rainbow fans for its dramatic shift in sound from previous offerings.
This final nine-date leg of the tour, the second-shortest leg of the tour overall, saw the group travel through Japan and stop off in Hawaii to wrap the tour up. Rainbow had in the past enjoyed a great deal of popularity in Japan. The band's Japanese concerts are also very well-documented; of the eight concerts the group did there in 1981, all are recorded.
This concert is known to have been recorded, as were the rest on this tour. It is in circulation online.
I talk more about the venue at which the group played, the Nagoya-Shī Kokaido, here.
Thank you so much for reading. If you enjoyed this post, please consider donating on my ko-fi page or becoming a patron on my patreon. I appreciate your help!