Dream Theater, Emerson, Lake & Palmer, and Deep Purple performed on this day in 1998 at the Grand Casino Amphitheater in Hinckley, Minnesota.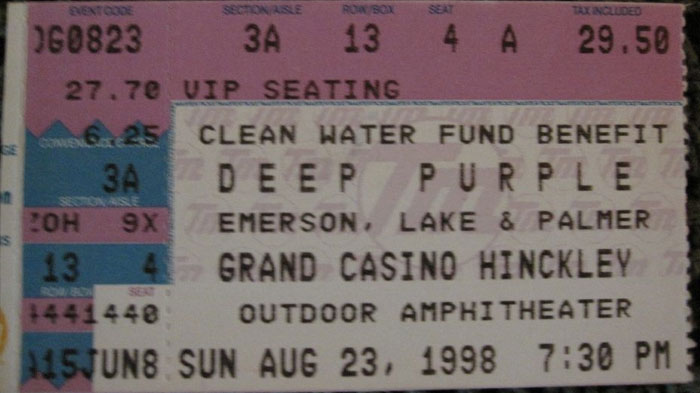 The three bands had been on tour together for the majority of the month of August. Dream Theater and ELP also performed a few warm-up gigs prior to the triple threat tour's official start.
As with other concerts on this tour, the reviews were absolutely glowing. Among the batch of Hinckley listeners who shared their thoughts on The Highway Star, Dream Theater was the least popular band, though overall they still were praised for their technical prowess. ELP was noted as being in top form, especially in the second half of their set. Purple themselves also got nothing but the top marks. Some comments were made about Ian Gillan, who seemed to have suffered a cold of some sort during the tour. By this concert, his voice had recovered fully, though a few noted he was still coughing.
Only Deep Purple's setlist is known to have been recorded at this concert. No extant recording of either Dream Theater or ELP's portions have yet surfaced.
Thank you so much for reading. If you enjoyed this post, please consider donating on my ko-fi page or becoming a patron on my patreon. I appreciate your help!
Post Sources