Rainbow performed on this day in 1981 at the Nippon Budokan in Tokyo, Japan.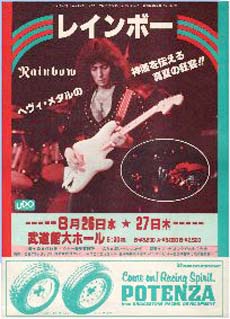 Rainbow were at the tail end of their Difficult to Cure Tour, undertaken to promote the album of the same name. The group had performed at least one date every month since February, a gruelingly long tour. For singer Joe Lynn Turner and drummer Bobby Rondinelli, the tour was probably their first major world tour. Joining Rainbow catapulted both of them to stardom in the metal world.
By the end of the tour, some tempers were likely fraying. The end of the tour also saw the Difficult to Cure lineup fragment, just a few short days after this concert. Doubtless the people in the audience were unaware of the historical nature of their concert as a byproduct of this impending fracture.
This concert is known to have been recorded, and is in circulation online.
Rainbow performed several times at the Budokan in Tokyo. I talk more about this legendary venue here.
Thank you so much for reading. If you enjoyed this post, please consider donating on my ko-fi page or becoming a patron on my patreon. I appreciate your help!