Emerson, Lake & Palmer performed on this day in 1977 at the Oakland Coliseum Arena in Oakland, California.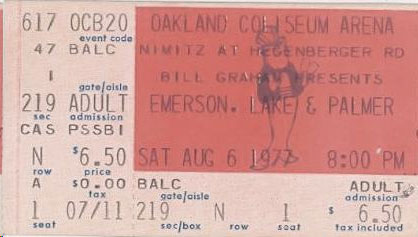 ELP were at this time on their Works Tour. They had recently finished a short run of dates in Canada, and were now traveling south along the West Coast of the United States. The West Coast had over the years seen some of ELP's most notable concerts, including their sole recorded stage attempt of the titular track of Trilogy. "Trilogy" was infamously difficult to perform live, so was quickly dropped from the setlist. The West Coast had also seen the live performance which eventually became Welcome Back My Friends, To the Show That Never Ends…Ladies and Gentlemen, Emerson, Lake & Palmer.
At this concert, ELP was joined by Journey. At this point in the Journey's history, "Don't Stop Believin'" was still four years off. The band was best known as a jazz fusion band from the San Francisco area. They had released their most recent album, Next, in February of that year.
This concert is known to have been recorded, and is in circulation online.
Thank you so much for reading. If you enjoyed this post, please consider donating on my ko-fi page or becoming a patron on my patreon. I appreciate your help!