Rainbow performed on this day in 1979 at the Royal Oak Music Theater in Royal Oak, Michigan.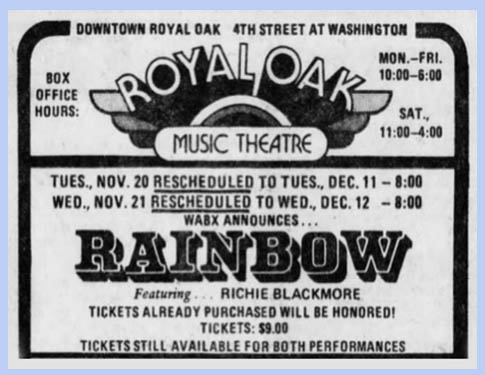 Rainbow were at this time on their Down To Earth Tour, undertaken to support the album of the same name. Royal Oak was the final stop on this leg of the tour, where the band honored a few dates which had previously been cancelled. In total, they played three concerts.
There may be a recording of this concert; a recording of a date in Royal Oak from "December 14th" is currently floating around on the internet. However, the band did not play on that night, so it may be from this concert instead.
I talk more about the venue at which the group performed, the Royal Oak Music Theater, here.
Thank you so much for reading. If you enjoyed this post, please consider donating on my ko-fi page or becoming a patron on my patreon. I appreciate your help!