Rainbow played at the Music Theater in Royal Oak, Michigan on this day in 1979. The dates at Royal Oak were their last stop on an extensive U.S. tour they had been on since September.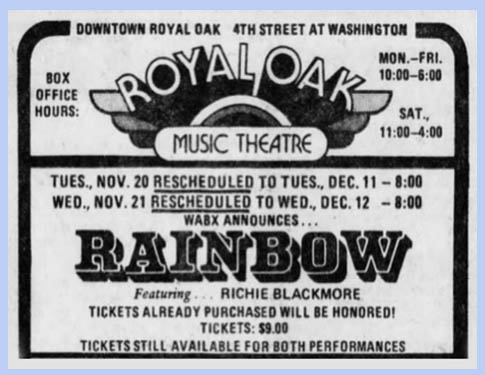 As with some of the previous dates I've covered, Rainbow were touring in support of Down to Earth, their most recent album. The Royal Oak concerts were supposed to happen earlier, but for some reason were rescheduled.
The timeline of actual dates gets rather fuzzy at the end; Rainbow Fanclan Legacy's site lists three dates in Royal Oak. The above poster only lists two. Meanwhile, setlist.fm's coverage of this 1979 tour lists none of them, but as of this writing includes the dates which were rescheduled. However, given I've been able to find ticket stubs for three nights in November prior to the concerts' postponement, it seems three dates in December is the most likely scenario.
There exists a recording claiming to come from December 14, 1979 at Royal Oak. As there is no evidence anywhere listing such a date, it could be either the 11th, 12th or 13th. It's currently in circulation online, though it's comparatively rare.
The venue at which they performed, the Royal Oak Music Theater, was originally an Art Deco-style movie theater opened in 1928. Fifty years later, concerts began occurring there in 1978 (source). The exact capacity of the theater has not been stated.
The theater is currently operating to this day. You can see the list of upcoming events here on their site.
Thank you so much for reading. If you enjoyed this post, please consider donating on my ko-fi page or becoming a patron on my patreon. I appreciate your help!