Emerson, Lake & Palmer performed on this day in 1970 at the Kinetic Circus in Birmingham, England.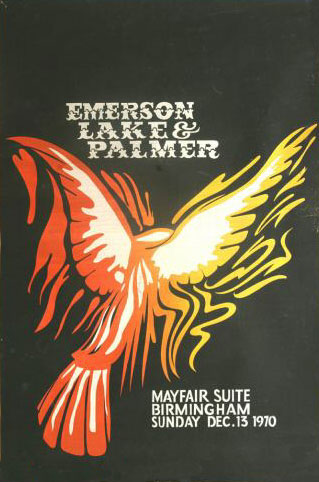 This concert was ELP's last major activity in 1970. It brought an end to their Debut Tour, undertaken to introduce them to rock listeners. During the tour, the group visited England, West Germany, Austria, and Switzerland; they were on the road beginning in August. They also found time to record a set for the Beat Club at some point during the German dates; this would air later in December after they were off the road.
During the debut tour, ELP performed several famous concerts, most notably at the Isle of Wight Festival and at the Lyceum Ballroom. The former is normally considered their official debut, as it drew a far larger audience than their actual first concert and made them a major name overnight. The latter was filmed, the first of a handful of ELP concerts to be, and was released in UK Theaters as "Pictures at an Exhibition". The band even released their first album during the tour.
A year to the day after this tour ended, Greg Lake was performing his final concert with King Crimson. Keith Emerson, then with the Nice, was also at the concert, though they had a few dates left. The pair apparently talked soon after the concert. It's truly amazing to consider in hindsight all this group accomplished in a short year, setting up their reign over early 70s rock 'n roll and the long legacy they have cast.
There is no known recording of this particular concert.
Thank you so much for reading. If you enjoyed this post, please consider donating on my ko-fi page or becoming a patron on my patreon. I appreciate your help!