Emerson, Lake & Palmer performed their last concerts of 1971 on this day at Green's Playhouse in Glasgow, Scotland. They performed two shows.
This was the final time ELP performed on their tour supporting Tarkus, their at-the-time most recent album. The album was not performed in full at this point; some pieces only reached the stage in the 1990s, while some have never been performed.
Previous posts about this leg and previous legs indicate the full scale and magnitude of this tour. It is a historical manifestation of how hard ELP actually worked; the massive, flashy phenomenon that they had become by their legendary Brain Salad Surgery tour was built above all things on the hard work they put in.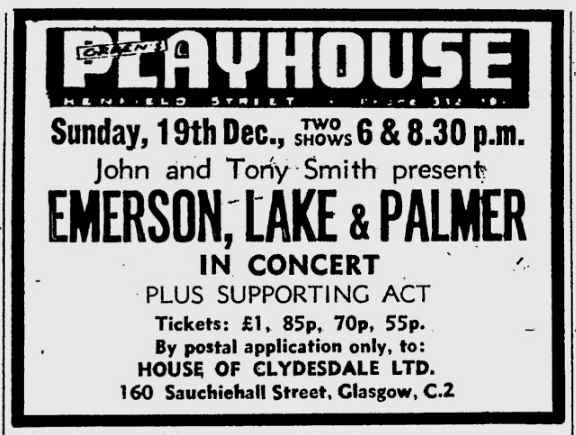 No recordings of either of the two concerts are known to exist.
I talk more about the venue at which the group performed, Green's Playhouse, here.