Emerson, Lake & Palmer performed on this day in 1970 at the Limmathaus in Zurich, Switzerland.
This was one of the last dates of their first ever tour, undertaken to introduce them to the world and presumably to support their debut album, which had come out just a few weeks before. During the tour, ELP performed solely in English and German-speaking countries.
The Concert
This concert's setlist featured the entire first side of their self-titled album, namely "The Barbarian", "Take a Pebble", and "Knife-Edge". Their show-stopping epic "Pictures at an Exhibition", which was performed in full, began the concert. "Rondo", originated by the Nice, made the setlist as well. Finally, the concert included performances of "Nutrocker", originally adapted from Tchaikovsky by B. Bumble and the Stingers, and "Preacher Blues".
Each band member got a solo spot during the concert. Keith Emerson took a long improvisation break in the middle of "Take a Pebble", which usually featured a few musical quotes. On this particular night, his solo lasted just under nine-and-a-half minutes and featured two snippets which would be recognizable to audiences; I will be discussing a third snippet further on in this piece. The first snippet was an adaptation of the first half of "Tank", also from the debut album. The other was a brief quotation of "Hoedown" by Aaron Copland, which ELP would one day adapt for their third studio album Trilogy.
Greg Lake performed a much shorter solo spot immediately preceding Emerson's improvs, also in the middle of "Take a Pebble". During this solo, he performed on acoustic guitar, combining the acoustic solo from the studio version of the song with a folk song about a dog named Blue. Carl Palmer's drum solo came in the middle of "Rondo". He soloed longest of the three, with solos often reaching or surpassing ten minutes.
This concert is not in fact the one shown in Shout Factory's irresponsibly-labeled Live in Zurich despite their YouTube channel's claim to the contrary. I detail that misidentification more here.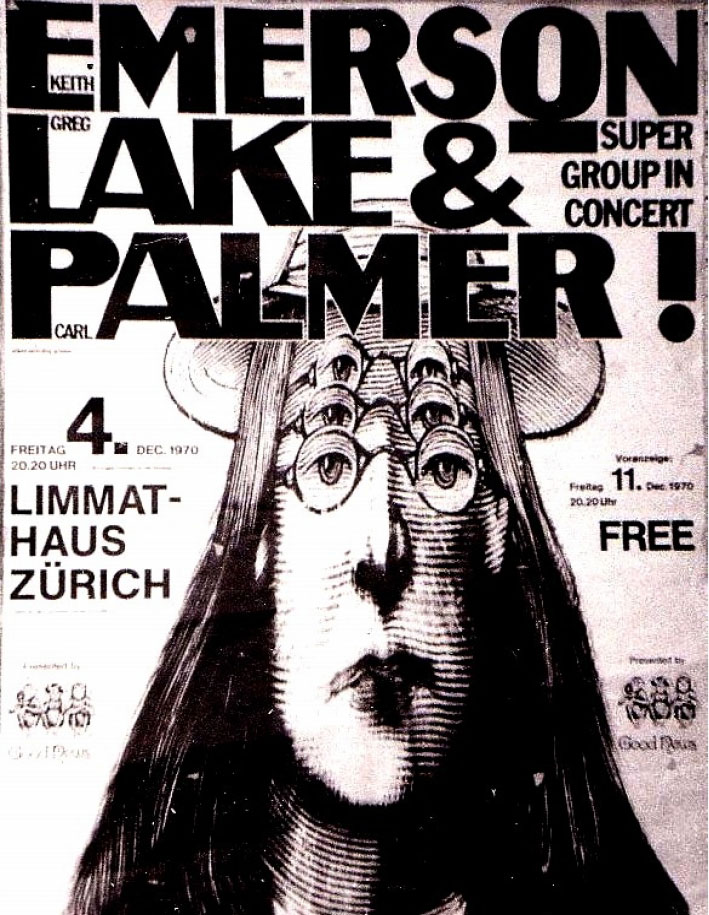 However, the concert still was recorded on audio. It's particularly notable for two things. First is their energetic, rollicking take on "Preacher Blues", suggesting their good spirits at the end of a very full year for all parties involved. Secondly is the appearance of a very familiar leitmotif during Keith Emerson's "Take a Pebble" solo section; this leitmotif would later become the backbone of the Eruption section of "Tarkus". As far as I know, this is the earliest-ever appearance of the leitmotif.
The Venue
I could find no information in English on the venue, Limmathaus. While I usually don't use Wikipedia except for images, I couldn't find much info not sourced from Wikipedia. I welcome any German-speaking readers to correct this info!
The site was built in 1930 and opened on November 1, 1931. It is connected to a church through a side wing. It was designated for use as both a "cultural and a commercial meeting place", with a focus on the working class. These days, mostly commercial occurrences take place here.
Thank you so much for reading. If you enjoyed this post, please consider donating on my ko-fi page or becoming a patron on my patreon. I appreciate your help!
Venue Sources
Edit on 2020-12-03: Added information on setlist.