Rainbow performed on this day in 1979 at the Ocean State Performing Arts Theater in Providence, Rhode Island.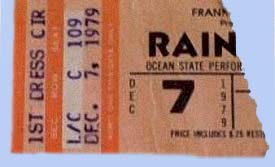 Rainbow were at this time on their Down To Earth Tour, undertaken to support the album of the same name. About a week after this date, Rainbow went home for the holidays. They would return to the touring circuit, this time in Europe, in late January.
There is no known recording of this particular concert.
Thank you so much for reading. If you enjoyed this post, please consider donating on my ko-fi page or becoming a patron on my patreon. I appreciate your help!