Emerson, Lake & Palmer performed on this day in 1971 at the Newcastle City Hall. It was their first date on a quick final lap of the UK before they finished touring for the year. They were supported by Michael Chapman, and played a total of two shows on this particular night.
This tour was done in support of the Tarkus album, their at-the-time most recent album. Trilogy had been recorded at some point in the fall, and "Hoedown" began showing up at gigs around this time, but the star of the show was still the Tarkus material.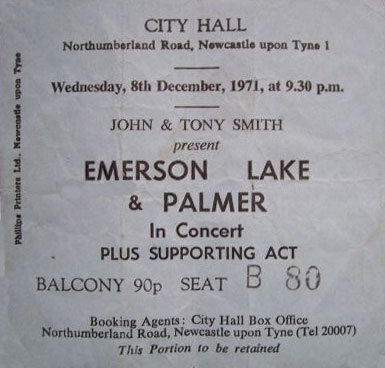 No bootleg of either show is known to exist. Recollections of people who had been, however, make it sound like it would have been quite a show! (source)
The band first frequented Newcastle City Hall in the fall of the previous year during their debut tour. They returned the following spring to record Pictures at an Exhibition there! This third concert they performed at the venue would be the last time they visited it in the 70s. They would come back one more time in 1992 during their Black Moon Tour. The location is also popular among groups like Deep Purple, Rainbow, and Yes.
The Newcastle City Hall first opened in 1927, and was originally used mostly as an orchestral concert hall. Wise promoters opened its doors to pop and rock in the 1960s, however; in both capacities it was and still is a leader of the show scene in Newcastle (source). It seats 2,135 people according to Wikipedia.
Amidst recent renovations and a change in ownership, Newcastle City Hall, now the O2 City Hall Newcastle, still operates today.
Thank you so much for reading. If you enjoyed this post, please consider donating on my ko-fi page or becoming a patron on my patreon. I appreciate your help!
Edit on 2020-01-13: Edit to include further information/links
Edit on 2022-06-12: Added info about other bands at the venue.