On this day in 1973, David Coverdale and Glenn Hughes performed with Deep Purple for the first time in at K.B. Hallen in Copenhagen, Denmark. They would go on to be part of the band until it went on hiatus in 1976.
This was the band's first performance since Ian Gillan's resignation and Roger Glover's firing in June of that year. While the group had originally intended to perform on December 8 at another venue, they were unable to get their gear there in time, and thus had to wait until December 9.
David Coverdale was not the first choice to join the band after singer Ian Gillan's resignation and subsequent departure; Ritchie Blackmore actually wanted Paul Rodgers of Free to join, a fact that the singer later confirmed. Glenn Hughes was a bit less of a stretch choice, already being a somewhat established member of the music scene. The two worked together to usher in a very different sound to Deep Purple for the next few years.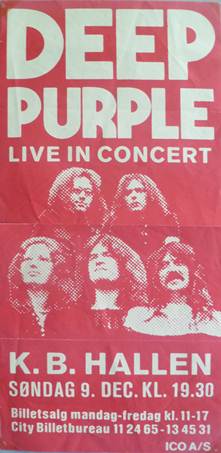 While not having much to say about the quality of the music they made at that first concert together, Coverdale recalls a great deal of destructive energy among his bandmates, as well as a positive audience response. The first concert was composed mostly of at-the-time unreleased material from Burn, a bold choice which immediately set the new lineup apart from the old one.
The gig has been recorded and not been officially released, so I'd recommend looking for it online and making up your own mind about how they sound on their first outing. Parts of it were also reportedly filmed.
The Venue
The venue at which the band performed, K.B. Hallen, was constructed in Copenhagen in 1938 after the designs of architect Hans Hansen; it was at the time the largest private sports facility in Europe. Its full name is Kjøbenhavns Boldklub, translated to Copenhagen Ball Club. Since its inception, it hosted a variety of sports and music events alike. Deep Purple themselves had been there with their Mark II lineup a total of five times.
Other notable performers at the hall included jazz musicians such as Dave Brubeck, Louis Armstrong and Miles Davis; and rock acts such as The Who, The Beatles, Jimi Hendrix, Bob Dylan, Led Zeppelin, Iron Maiden, and Green Day. Sadly, it burned down on September 28, 2011 after halogen bulbs set cardboard boxes on fire. No one was hurt in the fire, but the hall had to be closed; it was subsequently demolished.
A new building was built on the site of the old one to continue the venue's legacy. The current K.B. Hallen was reinaugurated in 2018, and still hosts events, according to its site.
Thank you so much for reading. If you enjoyed this post, please consider donating on my ko-fi page or becoming a patron on my patreon. I appreciate your help!
Edit on 2020-08-05: Optimized for new site. Image fixed.
Edit on 2020-12-09: Updated formatting.
Post Sources
Venue Sources