Emerson, Lake & Palmer performed on this day in 1974 at the Memorial Coliseum in Portland, Oregon.
ELP's Brain Salad Surgery Tour was legendary for its incredible performances, its eardrum-bursting quadrophonic sound system, and its perceived excesses. The road crew, for instance, was massive, fit for the fantastic show the band was putting on. The stage show, meanwhile, featured a drum kit which would rotate during Carl Palmer's drum solo. As usual, Keith Emerson was decked out with his massive array of keyboards, all the better to play all variety of wild numbers with. Greg Lake, meanwhile, had a carpet he stood on to hide a rubber mat which protected him from electric shocks. Not just any carpet, but a rather beautiful, $6000 Persian carpet.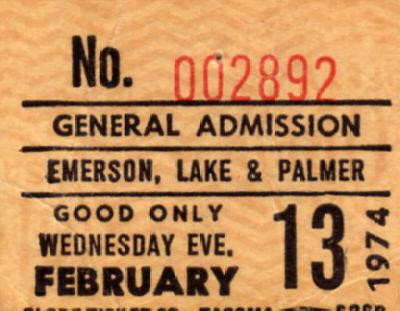 There is no known recording of this concert.
The venue at which they performed, the Portland Memorial Coliseum, had first opened on November 1, 1960 and hat its premiere event two days later. It was designed by Skidmore Owings & Merrill, an architecture firm which was a notable proponent of modern design. It has a capacity of around 12,000, with estimates for basketball games going up to 12,888.
The venue has had several notable events over the years, including the first time a US President ever watched an NBA game. Here are some of the concerts which have taken place there over the years. According to its website, it is still operating to this day.
Venue Sources
Thank you so much for reading. If you appreciate what I do, consider donating on my ko-fi page or becoming a patron on my patreon! I'm planning on upgrading my wordpress plan to a premium one, which would allow me to improve my readers' experience. Since I'm fairly broke, I would love it if the costs were offset a bit. Thank you!