Emerson, Lake & Palmer performed on this day in 1978 at the Ector County Coliseum in Odessa, Texas.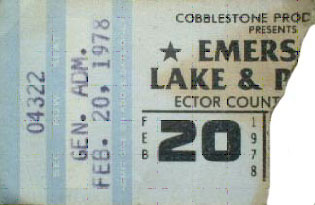 ELP's Works Tour took them to all manner of venues. Despite the fact that the state of Texas was further south than most of the locations at which they had played, the temperature was still quite low, averaging 28 Degrees Fahrenheit on that day! (source)
No bootleg of this concert is known to exist.
The place at which the group performed, the Ector County Coliseum, was originally built in 1954 according to Wikipedia.
The coliseum seats 8,000 and is on the grounds of a larger complex. It is still in use today according to its site. Fittingly, there are many rodeos and state fairs held there. Surprisingly, the coliseum is also the host to a junior hockey team!