Emerson, Lake & Palmer performed on this day in 1978 at Arizona State University in Tempe, Arizona.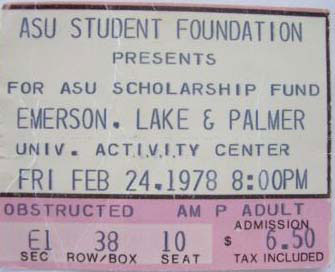 ELP's Works Tour had taken them to many different college campuses by this point, more than they were able to visit with their orchestra on an earlier leg of the Works Tour. Despite the fact that this leg of the tour was done to recoup the devastating financial losses the group suffered by taking an orchestra on the road, they still also found time for some philanthropic work. It appears that they helped the Arizona State University scholarship fund, a worthy activity.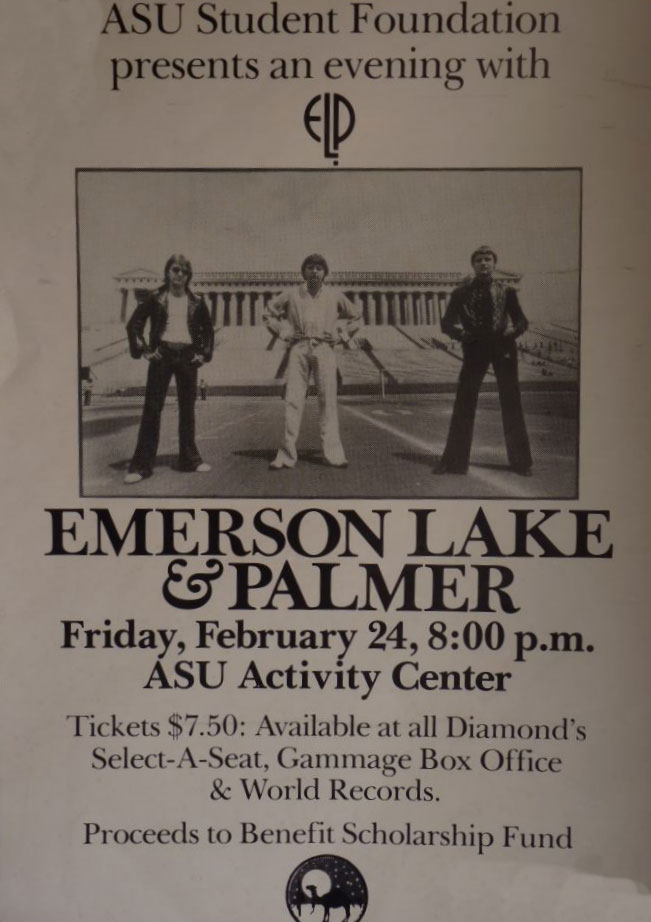 According to a later record, the proceeds of the show amounted to $57,284. If they were to do a similar benefit concert today, the proceeds would be $226,650.47!
The impact of this benefit concert is quite interesting too; at around this time, tuition cost in-state was only $225, with out-of-state students paying $540, though this was not inclusive of housing and other additional fees. This concert could, thus, cover the tuition cost of just over 250 students from Arizona or over a hundred out-of-state students! Today, meanwhile, the base tuition of ASU for in-state students is $10,710 and is $28,800 for out-of-state students. 21 students from Arizona and 7 students from elsewhere would be able to attend with tuition taken care of.
No recording of this concert is known to exist.
The venue at which the group performed, the ASU Activity Center, is actually a massive arena. When it was originally constructed in 1974, it could apparently house 14,000 people! The number has since been reduced to just over 10,000. It is now known as the Desert Financial Arena, and it hosts major sports events for the university. Here are some of the other concerts from this venue.
Post Sources
Venue Sources
Thank you so much for reading. If you appreciate what I do, consider donating on my ko-fi page or becoming a patron on my patreon! I'm planning on upgrading my wordpress plan to a premium one, which would allow me to improve my readers' experience. I appreciate any help!