Rainbow performed on this day in 1981 in J.B. Scott's in Albany, New York.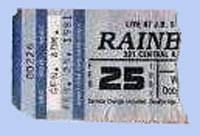 Rainbow's fourth tour date on their Difficult to Cure tour (upon which the massive opportunity dub the tour "Difficult to Tour" was sadly lost) finally took them out of Virginia, where they had played the previous three dates. So far, they had only undertaken small club dates as they slowly eased into what seems upon first look at lists of dates to be the most intense year on the road Rainbow ever had.
Doubtless, this was hard on the lineup of the group. Singer Joe Lynn Turner and drummer Bobby Rondinelli were relative newcomers to fame. Keyboardist Don Airey, meanwhile, had a one-year-old son at home whom he doubtless would have liked to spend more time with! Bassist Roger Glover also had a young daughter, Gillian. According to her own website, it was in 1981 that she made her stage debut, presumably on the Difficult to Cure tour, when she wandered onstage!
The Concert
While setlist.fm gives no indication of what occurred at the concert, a student review (presumably from SUNY Albany, the local university) mentions a few of the songs performed, including the fact that the Deep Purple classic "Lazy" was part of the encore. Fitting, as four of the five members of the Difficult to Cure lineup were past and future members of Deep Purple.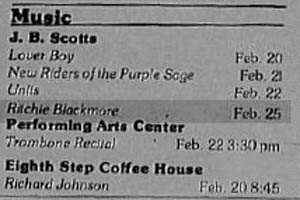 The rest of the student's review of the concert is absolutely raving, going so far as to say Rainbow was one of the hottest bands around. The review focused on Blackmore's antics, which were apparently less destructive than usual, perhaps proving that one doesn't need to smash things up to have a good time!
No recording of the concert is known to exist.
The Venue
The band played at J.B. Scott's, which once again was a small club. Holding somewhere between 700 and 900 people (both figures were given when I was doing research), this club's short life was balanced by the continuously high-quality acts which found their way here.
The club was opened in April of 1979 by local promoter Douglas Jacobs. In its time, among these other artists, it featured Count Basie, the Manhattan Transfer, a very early iteration of U2, and John Mellencamp.
It was burned down in July of 1982 in what was ruled an arson. The memory of the venue still lives on online thanks to its Facebook page.
Thank you so much for reading. If you enjoyed this post, please consider donating on my ko-fi page or becoming a patron on my patreon. I appreciate your help!
Post Sources
Venue Sources