Emerson, Lake & Palmer performed on this day in 1978 at the Kemper Arena in Kansas City, Missouri.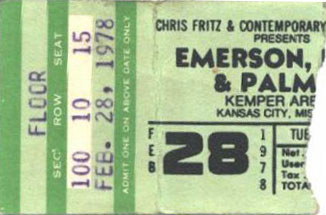 With this date, ELP closed out the second month of the second leg of their Works Tour. This month saw them visit many college campuses as well as large arenas. Several of their concerts are known to be major financial successes, based on reports I have seen.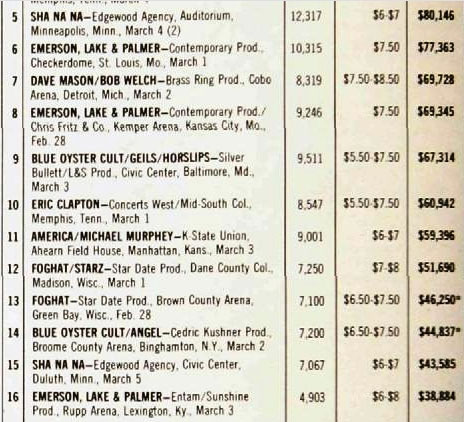 As I detail below, it appears they managed to fill just over half the seats.
ELP had performed almost every day in February (you can find all of them here), as well as almost every day in January since getting back on the road. Within this context, it's very understandable for them to want a vacation, as they would take in the summer.
There is no known recording of this concert.
The venue at which the group performed, the Kemper Arena, has had many a major events occur there in its time! It was built in 1974 for almost $23 million. Adjusted for inflation, that would be over $120 million!
At the time, prior to a renovation which added around 2000 seats, it would have seated just above 16,000 in its concert setups. Here are a list of some of the concerts which took place there over the years. Other events that were held here included sporting events; both the NHL Kansas City Scouts, the NBA Kansas City Kings, and the soccer team the Kanas City Scouts were tenants here. The 1976 Republican National Convention was also held here, at which Gerald Ford was nominated. He would eventually lose to Jimmy Carter.
Just over a year after the band performed there (the exact date being June 4, 1979), part of the roof collapsed during a major storm. Miraculously, although there had been an event there the day prior (ironically, it was the annual convention for the American Institute of Architects, who had given the building an award in 1976!), no one was using the space at the time. While there were maintenance and security personnel present, there were no injuries. The building was reopened the next year.
Today, the arena has been renamed the Hy-Vee Arena and is still in operation as a sports complex. You can find its website here.
Thank you so much for reading. If you appreciate what I do, consider donating on my ko-fi page. If you'd like to get some extra content, check out my patreon! I'm planning on upgrading my wordpress plan to a premium one, which would allow me to improve my readers' experience. Thank you!
Venue Sources