Rainbow performed on this day in 1980 at the Sportpaleis Ahoy in Rotterdam, Netherlands.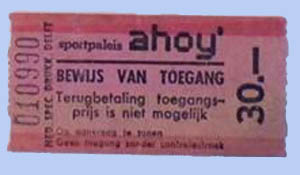 Rainbow were at this time on their Down to Earth tour, undertaken to support the album of the same name. The group had already completed a fairly successful set of dates in North America, and were now midway through their European dates. This concert was the first on the tour in the Netherlands.
A review of the concert featured particular praise for Graham Bonnet's voice, though mentioned that Rainbow on the whole was a bit messy. Another part of the review stated that the group did very well, though! This may have been a translation error, as this review appears to have been in the original language.
A nice group of photos of the night is available here.
This concert is known to have been recorded. It is in circulation online.
Thank you so much for reading. If you enjoyed this post, please consider donating on my ko-fi page or becoming a patron on my patreon. I appreciate your help!
Post Sources