Emerson, Lake & Palmer performed on this day in 1978 at the Forum in Montreal.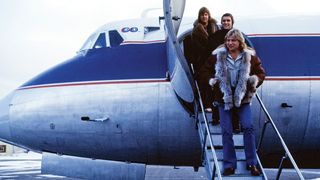 This date was the first they performed in 1978. ELP were at the time on their Works Tour, the last major tour they undertook in the 70s. At this time, they were performing as a three-piece, though they'd initiated the tour involving a full orchestra. It was done in support of two albums, Works, Volume 1 and Works, Volume 2. Clearly, the band's hiatus had done nothing to dampen their ambition or their daring!
This concert officially kicked off the third leg of the tour, which lasted until early March.
The setlist consisted of numbers primarily from the two Works albums, as one would expect. To fill in the setlist further, ELP brought in numbers from every one of their prior albums except Tarkus.
There is no known recording of the concert.
The Venue
The Forum is a very strange place, a necessary evil. Every time I set foot there, the same thoughts come to my mind: a cultural phenomenon has become a financial enterprise, making initial contact with the music changed over the years, almost brainwashed.

Christine L'Heureux about the Forum. Originally written in French; retrieved from here.
The concert took place at The Forum in Montreal, a famed hockey arena that doubled as a concert hall. The first building on the site, constructed in 1908, was a roller rink also known as the Forum. The site was rebuilt as a hockey arena in 1924, opening its doors for the first time on November 29 of that year. It included 9,300 seats originally, going up to 12,500 after 1949 and even further up to 17,959 later on.
In terms of hockey, the Montreal Canadiens were the home team until 1996. Many great sports moments, some of which are detailed here, occurred in the building over the years. Concerts from across genres featuring acts as diverse as Frank Sinatra, the Beatles, other concerts by ELP and their spinoff band ELPowell, Rush, the Montreal Symphony Orchestra, and multiple traveling orchestras.
The interior was demolished in 1996, but the building still stands. Today, it is used as a movie theater and an entertainment complex.
Thank you so much for reading. If you enjoyed this post, please consider donating on my ko-fi page or becoming a patron on my patreon. I appreciate your help!
Post Sources
Venue Sources
Edit on 2010-11-10: Added venue info. Optimized for new site.