Rainbow performed on this day in 1980 at the Scandinavium in Gothenburg, Sweden.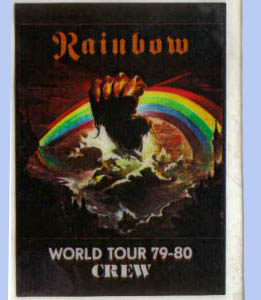 Rainbow were at this time on their Down to Earth Tour, undertaken to support the album of the same name. This was the first date the group performed in Europe after spending the fall performing in the United States. The band had debuted a new sound with Down To Earth along with three new members: Roger Glover, Don Airey, and Graham Bonnet. All three were either new to the hard rock scene or, in Glover's case, had been on hiatus for a significant period.
At this concert, Rainbow were supported by Reeperbahn. They took their name from a famous arts district in Hamburg, where the Beatles among others performed. The band had recently released their self-titled debut album.
This concert is known to have been recorded and is in circulation online.
I talk more about the venue at which the group performed, the Scandinavium, here.
Thank you so much for reading. If you enjoyed this post, please consider donating on my ko-fi page or becoming a patron on my patreon. I appreciate your help!
Post Sources