Rainbow performed on this day in 1980 at Johanneshov Isstadion in Stockholm, Sweden.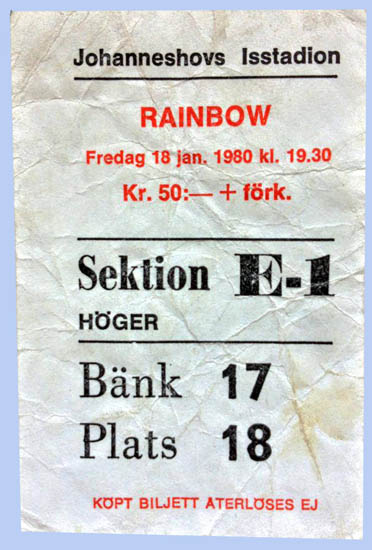 Rainbow were at this time on their Down to Earth tour, undertaken to support the album of the same name. The group had only returned to the touring circuit the day before, beginning the first European portion of the tour. The group toured steadily until early March, at which point they took some time off before beginning the Japanese portion of the tour.
Down to Earth's sound marked a break with the sound of Rainbow's previous three albums, reflecting guitarist Ritchie Blackmore's desire for Rainbow to have more chart success. The setlist was a concrete illustration of this break, with five of the ten songs on the setlist coming from the newest album. Two other songs came from Rainbow's first album and one came from Long Live Rock 'n Roll; the standard setlist did not include a single cut from Rising. As with the day before, Rainbow were supported by the new wave act Reeperbahn.
This concert is known to have been recorded and is in circulation online.
Thank you so much for reading. If you enjoyed this post, please consider donating on my ko-fi page or becoming a patron on my patreon. I appreciate your help!
Post Sources