Rainbow performed on this day in 1980 at the Festhalle in Frankfurt, Germany.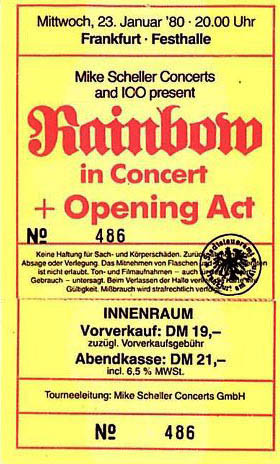 Rainbow were at this time on their Down to Earth tour, undertaken to support the album of the same name. This was the group's second performance in Germany. They were supported by an English band known as the Katchies, a pop-rock act with a throwback sound.
A review for this show notes that 9000 people attended and makes reference to guitarist Ritchie Blackmore performing "Sixteenth Century Greensleeves" during the concert. As this song wasn't on the setlist for this tour, the reviewer was likely referencing the original "Greensleeves", which he sometimes performed before "Since You've Been Gone". Blackmore was apparently in fine form during the night. Sadly, the reviewer did not note how the other four members of the band did.
This concert is known to have been recorded and is in circulation online.
Thank you so much for reading. If you enjoyed this post, please consider donating on my ko-fi page or becoming a patron on my patreon. I appreciate your help!
Post Sources