Emerson, Lake & Palmer performed on this day in 1974 at the Omni Coliseum in Atlanta, Georgia.
This concert began the second leg of the Brain Salad Surgery tour. It was, like the previous leg, in North America. The tour was famously lavish, with a massive road crew, huge expenses on instruments, and presentation night after night in quadrophonic sound.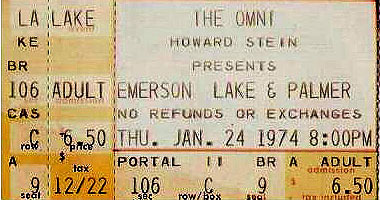 A bit had changed for the members of the band since their last date. Rather, it had changed for one in particular. Greg Lake had gotten married during the hiatus! He and his wife, Regina, remained married for the rest of his life.
During the tour, the band performed Brain Salad Surgery in its entirety in order, interspersed with other previous songs from every album they'd thus far created. This makes for a hugely long setlist. Adding to this, the improvisation sections were quite extended, causing Tarkus alone to last half an hour! Keith Emerson routinely included the Beatles song "Norwegian Wood" at this stage—this despite claiming later in his autobiography not to think much of the Beatles!
There is no known recording of this concert.
The band chose the Omni in Atlanta, Georgia for the kickoff of this leg of the tour. The Omni had been built in 1972 and was demolished in 1997, but I haven't been able to find much other information on it.