Emerson, Lake & Palmer performed on this day in 1974 at the University of Alabama Memorial Coliseum in Tsucaloosa, Alabama.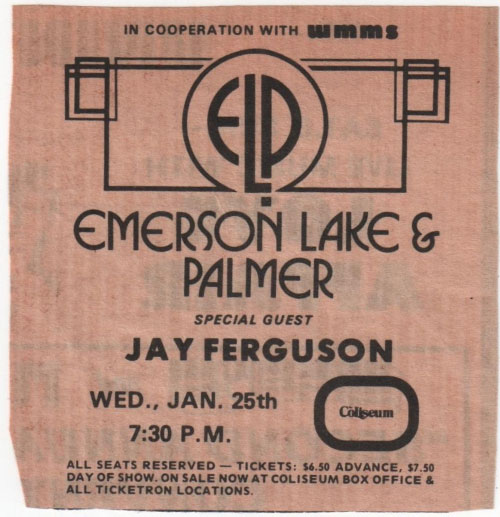 ELP were at this time on their Brain Salad Surgery Tour, undertaken to support the album of the same name. This was the last multi-continental tour that the band undertook until the Black Moon Tour after their reunion in 1992. The group's Alabama appearance was the second on this particular leg of the tour.
At each concert, ELP performed their Brain Salad Surgery album in order, interspersed with pieces from prior albums. This included playing their two most notable epic works, "Tarkus" and "Karn Evil 9", in full every night! Each of these pieces by themselves lasted around half an hour onstage, with the "Aquatarkus" improvisation section contributing to "Tarkus"' extended stage length.
There is no known recording of this particular concert.
Thank you so much for reading. If you enjoyed this post, please consider donating on my ko-fi page or becoming a patron on my patreon. I appreciate your help!